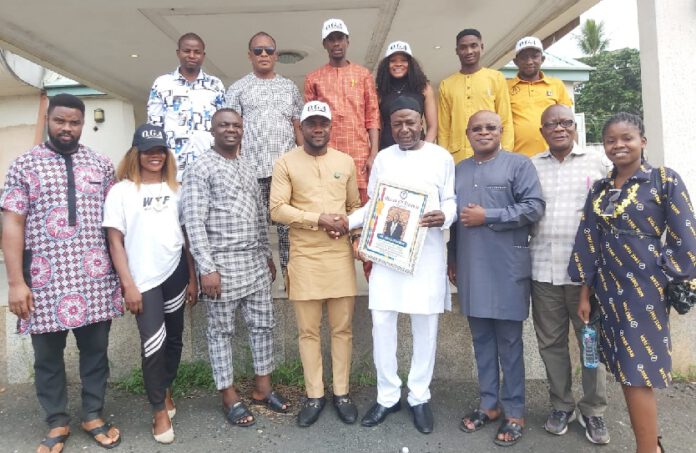 •As Nnawugo Rallies Support For Governor's Re-Election
By Onyekachi Eze
In acknowledgement for job well-done in the promotion of humanity and for his selfless service to the State, the Special Adviser to Imo State Governor, Hon. Elder Aloysius Nnawugo has bagged a prestigious award from Omuma Graduates Association.
This was even as the SA had bagged several awards for his outstanding nature in leadership positions.
Presented to him yesterday, March 16, 2023 in his office at the White House, Owerri, the group comprising some of the Excos and few members who represented over three thousand of its membership strength  expressed satisfaction on his numerous contributions towards the growth of the Association.
The President of the Association, Engr. Comrade Okorie Emmanuel Chinonso appreciated Nnawugo for his continued support to O.G.A.
He also thumbed up for him for his impacts in the development of the State through his office and his support to the Governor.
Comrade Okorie enjoined Imolites to queue up towards the ideologies of the Diaspora Office in making the State great again under Uzodimma's watch.
In his presentation, the Secretary General of O.G.A, Paschal Onwuharonye submitted that the award on Elder Aloy Nnawugo was a means of thanking him for all his good deeds in the service to Imo people.
Reeling out some of the aims and objectives of Omuma Graduates Association, Onwuharonye outlined it thus, to unite Graduates in Omuma to join force in fighting illiteracy and poverty through the promotion of education; Providing sensitization programs and services; Creating job opportunities for Omuma sons and daughters.
Again, he told the SA Diaspora Affairs that the Association which came onboard in 2019 has attained most of the aims and objectives in different ways.
"We shared over 700 nose masks and hand sanitizers to Omuma sons and daughters at the peak of the Covid-19. In 2020, we launched an almanac and gave out scholarship where we paid the WAEC and school fees of over 10 students, while the overall best student is currently under University scholarship. Again in 2022, we had a sensitization program where a campaign against hard drug intake was a key theme, as well as scholarship programs too"
Against these backdrop, they beckoned on Elder Aloy Nnawugo to use his good office in further assisting them arrest some of their challenges like  finance, mobility, and grant/ oversea scholarships for its Members.
They seized the opportunity to thank the Governor for giving some of the member's job opportunities.
Lending his voice, an APC chieftain from Oru East LGA, Sir Tony Enoch commended the Association for the solidarity shown to Nnawugo. He described him as a Leader par excellence.
He admonished them not lose hope while striving for the emancipation of their future.
Similarly, Sir Enoch tasked them to vote massively for APC victory in tomorrow's slated Assembly election.
Dr. Stanley Ndubuisi Anyanwu PhD, in his own submission regretted that with many vocational jobs that can keep people moving, not having a conducive environment becomes a cankerworm. This, he urged the youths to shun acts inimical to their wellbeing.
Reacting, Elder Aloy Nnawugo expressed gratitude on the visit and the confidence reposed in him by Omuma Graduates Association.
He was particular that the honour given to him came from the Governor's immediate hometown.
The elder statesman revealed that Governor Uzodimma's emergence was not by coincidence, but God's Will that he would emerge and at that point in time in Imo's history.
"I had the vision of Governor Hope Uzodimma's Governorship Position, that was why I gave him my full support without any regrets, and he has gone beyond people's expectations in making Imo a haven for development, and investment".
Reassuring his LG kinsmen, Nnawugo affirmed that his office can attract direct foreign investment to the State which will favour all and sundry,but with their collective effort in ensuring that the governor returns in Douglas House for his second term.
He charged them, especially the youths to rally round their brother the governor under whose leadership the State is transformed to the envy of other sister States through his democratic tenets and good governance.
"We cannot say all that the Governor has done. His legacies in terms of infrastructure, human and capital development are top notch. They are numerous. These are eloquent testimonies why he deserve our collective support for a second term journey. He didn't disappoint in this first tenure, so second journey is assured".
The youths were further enjoined  not to join the bandwagon of never-do-wells, or plot negatively for the progress of the State.