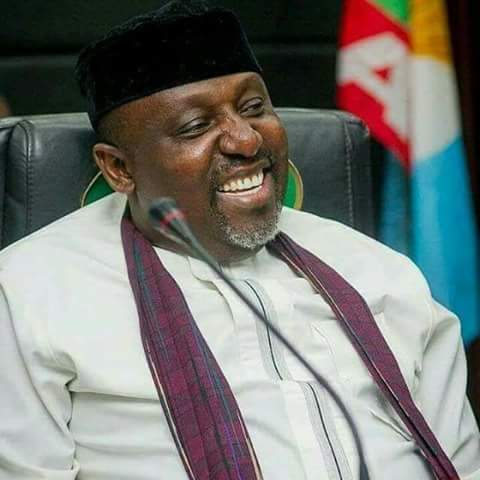 The Director- General of the Governor Rochas Okorocha's Campaign Organization in the last Governorship election in Imo State in 2015, Bar Alaribe Iheukwumere has expressed his ordeal throughout the hectic period of the elections.
Speaking to Trumpeta at the Grounds of "Owerri Summit' which held at Egbu, Owerri North LGA at the weekend, the former Commissioner maintained that he was just the Director- General by mouth, as he had no power to control what happened within the organization, since he had no access to fund, neither could he direct that funds be released to anybody or Groups.
Explaining further, Iheukwumere hinted that every Kobo of the campaign organization was in the custody of Okorocha's son-in law and Chief of Staff, Uche Nwosu, who disbursed funds at his own whims without his input or directive.
He therefore debunked the rumour that he made money during his days as the Campaign Director General of the governor, pointing out that it was only when you see money that you will start talking of keeping some.
"I did not make any money as the Director General of Gov Okorocha's campaign. Whoever told you that is out of his mind. I was not given a penny, since all the funds were usually disbursed by another person. So, which money did a make for myself? He asked.
Asked why Okorocha refused to deem it fit yet to give him an appointment, or even return him as a Commissioner after he headed the organization that returned him to office for a second term.
The Aboh Mbaise born Lawyer said he does not know, adding that whether he was given any appointment after working so hard to return Okorocha, does not matter.
He said that what cannot be erased is that he headed the campaign organization that returned Okorocha to power.
Speaking as the spokesman of All Progressive Congress APC members of Owerri zone who attended the "Owerri Summit", Iheukwumere, surrounded by Chief Alan B Onyemechi, Chief Aductus Onuoha and other APC Chieftains said that they attended the Summit as APC leaders from Owerri zone to make case for an Owerri zone Governorship come 2019.
They maintained that Owerri zone has since 1999 crowned other zones as Governors, and therefore appealed that this is the time for Owerri to be recognized for her benevolence and support to other zones to produce Governors.
The Owerri zone APC members through Iheukwumere said that whoever would be Governor of Imo State in 2019 would be supported by them, provided that candidate is from APC.
Chief Aductus Onuoha, and Chief Alan B Onyemechi supported the argument, saying that Owerri zone must approach Okigwe and Orlu zones, because a King does not crown himself, pointing out that since Owerri crowned Okigwe and Orlu zones, It is now left for the two zones to reciprocate the good deed of Ndiowerri.