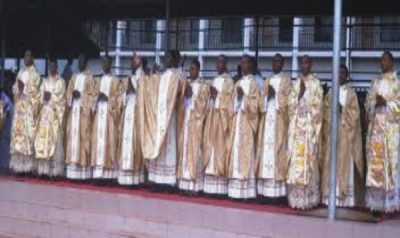 As the race for who takes over the Bishop position of Owerri Archdiocese after Archbishop Anthony Obinna's tenure in office, is about to begin, the incumbent has disclosed he has no right to chose.
Archbishop Obinna who does not have more than two years to retire told newsmen that it is not in his powers to chose a successor as next Bishop.
It would be recalled that Ahiara Diocese is engulfed in crisis over succession of Bishop after the late Bishop V.C Chikwe.
A visibly worried Obinna who does not want to dwell more on the issue said the Pope decides who is the next.
Meanwhile, available information to the newspaper has it that prospective candidates for the position have started warming up for consideration as Obinna's successor.
The warm up racket, according to Trumpeta findings is going on among the elite priests in the cadre of monsignors who posse relevant qualification to fit into the position.
It was learnt that the race became aggravated as Obinna begins preparation for retirement and nomination of a successor.
An anxillary priest shall be appointed to take charge in the interim before a substantive Bishop is appointed to take charge.