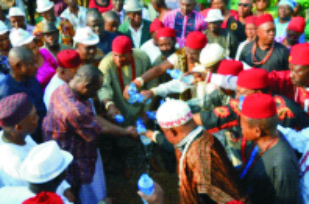 By Amaechi Chidinma
Piqued by the need to sanitize and enhance the services of herbal medicine practitioners in Imo state and south east.
The members of south east traditional medicine practitioners association (SETRAMPA) paid a courtesy visit to the state commissioner for science and technology development Hon. Ikechukwu Sunday Umeh in his office at the Federal secretariat Owerri, Imo state to discuss the way forward for the herbal profession.
In an address presented by the South east Zonal president; High Chief Dr. Chibuzor E. Ugorji, the Apex Leader described SETRAMPA as a registered organization, that has the sole aim of saving life, he seized the opportunity to plead with the ministry to help checkmate those in the herbal profession, by constituting a board of traditional medicine as it is done in other South east states, he prayed the ministry to assist in promoting the Unity and progress of the traditional medicine practitioners and carry the association along in all endeavours politically and otherwise.
In his remarks the Imo State Chairman Chief Dr. Thomas Ohanaja (Dr Fire) stated that the essence of the visit is to save life and eradicate quacks from the herbal practice, the association is on high gear to make sure their hard earned reputation is sustained and to ensure a technologically advanced traditional medicine.
Dr. Ohanaja assured that with the crop of herbal experts in the South east the practitioners will make a positive headway in finding lasting solution to numerous ailments; he maintained that it is high time for traditional medicine in the South East to compete with others in the world market.
Dr. Ohanaja seized the platform to commend Governor Hope Uzodinma for creating the Ministry of Science and Technology to help oversee and checkmate, research development in the state. In his words "we are here to save lives, we don't want a situation where we will be in the state with bad name, immediately we received the news that the Governor created Ministry of Science and Technology, we were happy because we want to eradicate quacks among us that are spoiling the profession.
We want to work in synergy with the ministry because we have so many experts, we know our job. We are not happy with our system, we want to be like other developed countries, not going to the market to buy medicine without office, or home address, it will look as if our traditional medicine is not good, we want people to have trust in us", he submitted.
In his remarks Hon. Dr. Dominic Iroha frowned at the way some self acclaimed traditional medical practitioners abuse the profession with the aim of doing business.
Also speaking, the Orlu zonal Chairman Chief Dr. I.C Odunze stressed on the need for a bill to be passed and a board set up to herald a smooth practice for herbal medical practitioners.
Reacting to the visit the Honourable Commissioner for Science and Technology Development Hon. Ikechukwu Sunday Umeh described the visit as a step in the right direction, he promised to partner with SETRAMPA, Hon. Umeh hinted that the present administration is interested in the wellbeing of its citizens , he said the Government is setting up a science and research laboratory so that those in orthodox medicine will effectively harness their ideas and formulas, take it for analysis and classification, if found effective, he said it will be sent to NAFDAC to be signed and marketed.
Dr. Umeh further pointed out that if given a level play ground, the traditional medical practitioners will make a huge landmark in the treatment of the lingering COVID 19 pandemic.
in their respective reactions the SSA to the Governor on Information Technology Hon (Chief) Anthony N. Akuneme and the permanent secretary Barrister Chris Duru urged the association to redefine their practice while appreciating the practitioners for coming. Members present at the meeting with the commissioner for science and technology include; Chief Thomas Ohanaja (Dr. Fire) State Chairman, Nze Dr. Kenneth Nwakpara (a.k.a)1 million, state PRO, Chief Dr. Nze Ezinna Augustine Eke State Secretary/Researcher and Consultant, Hon. Dr. Charity Ezenwanyi Nwadike State Women Leader, Chief Dr. I.C Odunze orlu, Zonal Chairman, Chief Dr. Innocent Osuji Owerri Zonal Chairman, Chief Dr. Ikechukwu Ikenga, Board member, Chief Dr. Ali Nwaobodo State Auditor General, Chief Felix ilobi Oru East L.G.A Chairman, Hon. Dr. Nnadi State Fin. Sec, Dr. Okwudili Ejesieobi Member, High Chief Dr. Chibuzo Ugorji (Ebube Dike), Hon. Dr. Dominic Iroha Zonal Secretary, Dr. C. Elekwa Zonal Task Force Chairman, Dr. Christopher Ejimkonye (Abia State), Dr Mrs Oiuchi Patrick (Umuahia), and Dr. Uchechi Ohanaja
Other stake holders in the Ministry of Science and Technology were present amongst whom are the DAF Mr Christian Chukwu, Acting Director of administration, Barr Valentine Eze and host of others.