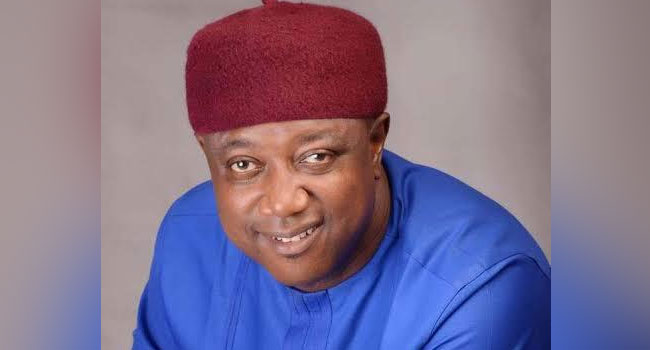 By Okey Alozie
Frank Ibezim, the flag bearer of All Progressive Congress APC in the Okigwe Zone Senatorial bye election coming up on 31st October 2020 is said to have turned to a prayer warrior over his election and his Court case against Araraume.
Frank Ibezim who is currently going round for his campaign was physically seen kneely down to preach, sing song and praises while canvassing for vote at Awuch na umu political ward in Ihitte Uboma local government area of Imo State.
Ibezim who managed to get up after some minutes raised his voice and eyes before the people and later said it is all over.
He promised Awuchinumu Ward, the home community of the LGA IMC Chairman, Hon Chike Olemgbe that he must surely remember them if he gets to the Red chambers of the Federal Republic of Nigeria (Senate). "My going to the Senate House is now a foregone conclusion" he said.
Speaking further he narrated how he helped Ihiteuboma people in the past adding that he is bloodily related to them.
Ibezim gave kudos to the Interim Management Committee Chairman of Ihitteubma, Hon Chike Olemgbe for living up to his expectations by mobilizing men and women of the Area to come out for the campaign.
The IMC Chairman Olemgbe in his reaction told Frank Ibezim to go and sleep that Ihitteuboma people will vote him into power.
Some of the women of the Area who spoke to our Reporter said that they have made a "U" turn to vote for Frank Ibezim because he is now a Prayer Warrior and a born again Christian adding that when he gets to Senate, he will use his Prayers t converts some of Muslims there.
Few youths who spoke to our reporter submitted that Ibezim is praying not only to win vote at the election ground but because of his case with senator Ifeanyi Araraume that is coming up tomorrow at the Federal High Court.