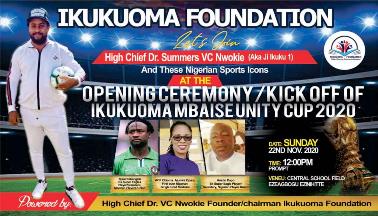 The president of the National association of Nigerian Professional Footballers Union and former Ajax striker, Tejani Babangida will lead Members of the union including the secretary of the Union, Mr Austin Popo, Chairman of the Imo State Chapter, Mr Promise Nwachukwu , President of Chioma Ajunwa Foundation, ACP Chioma Ajunwa Opara, Secretary players union Fct Chapter, Barr Mrs Victoria Nlemigbo and former Iwuanyawu National Captain, Stanley Onuebu to the first edition of the Ikukuoma Mbaise Unity cup kicking off this weekend at Ezeagbogu Ezinihite Mbaise.
The competition a pet project of Dr Summers VC Nwokie, Akaji Ikuku one of Mbaise which is to provide a platform for the discovery of young players around the Mbaise nation who were now before now were a home to talented footballers and Administrators like the late Uwalaka, Patrick Ekeji, Peter EregE, Chidi Nwanu, Fan Nduboke, Godwin Agaragi, Nigerian first Olympic gold medalist, ACP Chioma Ajunwa the Oparakwu sister Uche Eucaria and other great minds in sports development in the country.
Ezeagbogu/Okpofe will take on Nnarambi in the first game of the competition kicking off at the centeral school Ezeagbogu, the donor and founder Ikukuoma foundation Dr Nwokie will use the opportunity provided by the competition to honor men and women from mbaise who has contributed to the development of sports in the state and nation, the coordinator of the Foundation Hon Julius Nnaji said players discovered at the championship will form the new Ikukuoma football club that will compeat at the national league next soccer season.