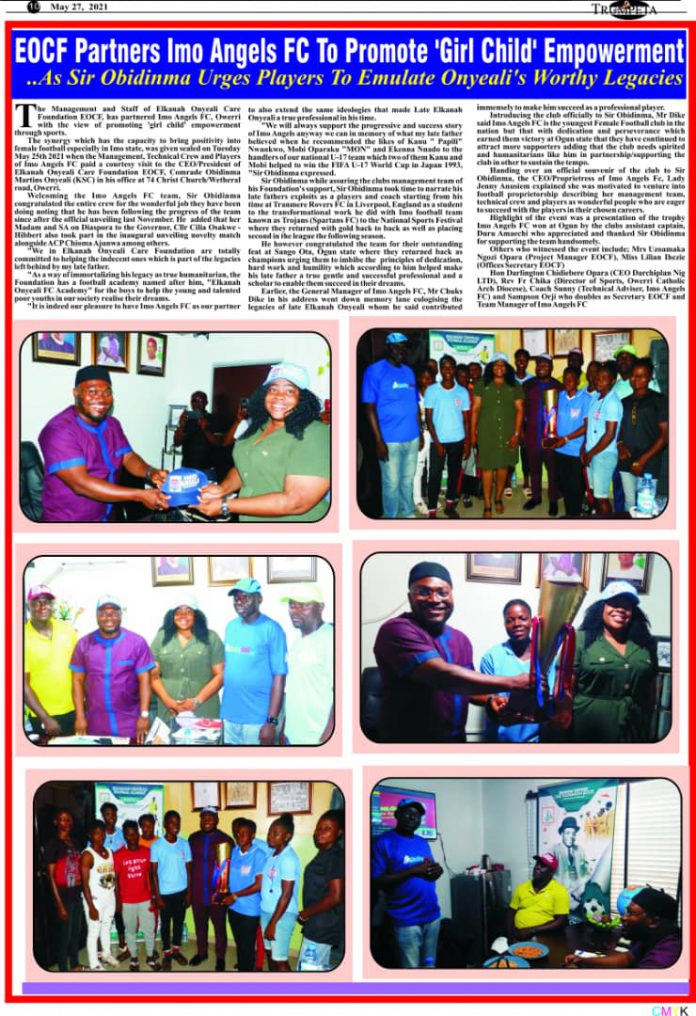 The Management and Staff of Elkanah Onyeali Care Foundation EOCF, has partnered Imo Angels FC, Owerri with the view of promoting 'girl child' empowerment through sports.
The synergy which has the capacity to bring positivity into female football especially in Imo state, was given sealed on Tuesday May 25th 2021 when the Management, Technical Crew and Players of Imo Angels FC paid a courtesy visit to the CEO/President of Elkanah Onyeali Care Foundation EOCF, Comrade Obidinma Martins Onyeali (KSC) in his office at 74 Christ Church/Wetheral road, Owerri.
Welcoming the Imo Angels FC team, Sir Obidinma congratulated the entire crew for the wonderful job they have been doing noting that he has been following the progress of the team since after the official unveiling last November. He added that her Madam and SA on Diaspora to the Governor, Cllr Cilia Osakwe -Hibbert also took part in the inaugural unveiling novelty match alongside ACP Chioma Ajunwa among others.
"We in Elkanah Onyeali Care Foundation are totally committed to helping the indecent ones which is part of the legacies left behind by my late father.
"As a way of immortalizing his legacy as true humanitarian, the Foundation has a football academy named after him, "Elkanah Onyeali FC Academy" for the boys to help the young and talented poor youths in our society realise their dreams.
"It is indeed our pleasure to have Imo Angels FC as our partner to also extend the same ideologies that made Late Elkanah Onyeali a true professional in his time.
"We will always support the progressive and success story of Imo Angels anyway we can in memory of what my late father believed when he recommended the likes of Kanu " Papili" Nwankwo, Mobi Oparaku "MON" and Ekenna Nnado to the handlers of our national U-17 team which two of them Kanu and Mobi helped to win the FIFA U-17 World Cup in Japan 1993, "Sir Obidinma expressed.
Sir Obidinma who
While assuring the clubs management team of his Foundation's support, Sir Obidinma took time to narrate his late fathers exploits as a players and coach starting from his time at Tranmere Rovers FC in Liverpool, England as a student to the transformational work he did with Imo football team known as Trojans (Spartans FC) to the National Sports Festival where they returned with gold back to back as well as placing second in the league the following season.
He however congratulated the team for their outstanding feat at Sango Ota, Ogun state where they returned back as champions urging them to imbibe the principles of dedication, hard work and humility which according to him helped make his late father a true gentle and successful professional and a scholar to enable them succeed in their dreams.
Earlier, the General Manager of Imo Angels FC, Mr Chuks Dike in his address went down memory lane eulogising the legacies of late Elkanah Onyeali whom he said contributed immensely to make him succeed as a professional player.
Introducing the club officially to Sir Obidinma, Mr Dike said Imo Angels FC is the youngest Female Football club in the nation but that with dedication and perseverance which earned them victory at Ogun state that they have continued to attract more supporters adding that the club needs spirited and humanitarians like him in partnership/supporting the club in other to sustain the tempo.
Handing over an official souvenir of the club to Sir Obidinma, the CEO/Proprietress of Imo Angels Fc, Lady Jenny Anusiem explained she was motivated to venture into football proprietorship describing her management team, technical crew and players as wonderful people who are eager to succeed with the players in their chosen careers.
Highlight of the event was a presentation of the trophy Imo Angels FC won at Ogun by the clubs assistant captain, Duru Amaechi who appreciated and thanked Sir Obidinma for supporting the team handsomely.
Others who witnessed the event include; Mrs Uzoamaka Ngozi Opara (Project Manager EOCF), Miss Lilian Ihezie (Offices Secretary EOCF)
Hon Darlington Chidiebere Opara (CEO Darchiplan Nig LTD), Rev Fr Chika (Director of Sports, Owerri Catholic Arch Diocese), Coach Sunny (Technical Adviser, Imo Angels FC) and Sampson Orji who doubles as Secretary EOCF and Team Manager of Imo Angels FC.