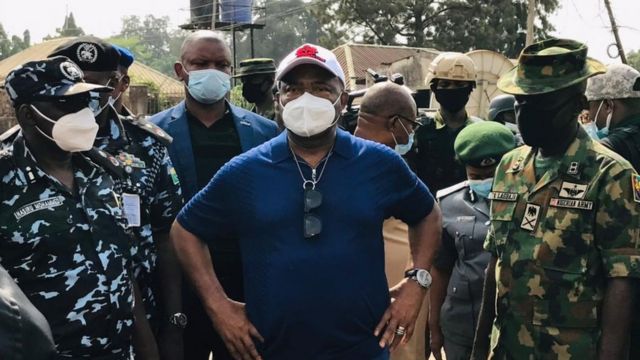 By Onyekachi Eze
Determined to fight the rising insecurity in Imo State, Governor Hope Uzodimma has placed a reward for anyone with useful information on the way about and hideouts of criminals in the State.
The Governor, made the open declaration at the Government House, Owerri, during a parley with his party's, APC, State, LGA , and Ward Executive on Tuesday.
Uzodimma disclosed his commitment in ensuring that criminality and banditry are extinguished from the State.
He promised to reward any person or group of persons with a genuine information that could lead to the arrest of culprits.
The rewards ranges from one million naira to six million naira, (#1,000,000-#6,000,000).
Charging the party Leadership to assist him in combating the activities of bandits, the Governor also charged Imolites to join hands in the battle.
He also reassured of his resilience in getting Imo State rid of crimes, no matter what it would take or cost the State Government, hence, the #6m bounty.
Uzodimma further said that, the criminals have terrorized the State enough, and have been getting stiff resistance by the security operatives due to the continued support by the Government in making Imo conducive.
He expressed surprise that members of the opposition are blind to his modest achievements in the face of insecurity, banditry, unknown gun-men and social media terrorism, adding that his achievements are "a product of support from both Imo people and the Federal Government which are all APC."
The Oru East Governor regretted that the activities of unknown gunmen since 2020 is worrisome, which can no longer be tolerated.
It would be recalled that recently, kidnapping, killing were on the prowl in the State, which may have caused the decision of the Governor to announce the reward against bandits.