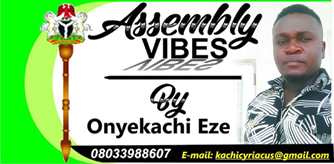 6 IMO ASSEMBLY MEMBERS GO FOR REPS TICKET, AS 18 WANT 2ND "MISSIONARY JOURNEY"
•SPEAKER IBEH, CHIJI, OKWARA EYE THIRD TERM AGENDA
The die is cast for the 2023 general elections, which will herald the beginning of the 10th Assembly.
While aspirants jostle for one elective position or another, present members of the Imo State House of Assembly are not left out of the game.
The political tussle had since commenced with six of the Lawmakers declaring interest in the House of Representatives seat.
They are Honorables; Paul Emeziem, Arthur Egwim, Ngozi Obiefule, Uju Onwudiwe, Uche Ogbuagu, and Michael Onyemaechi Njoku.
Emeziem was the immediate past impeached Speaker of the House, he represents Onuimo LGA. Currently, he want to unseat Hon Miriam Onuoha with his declaration of the Reps seat under the All Progressives Congress, APC. Okigwe North Reps covers Okigwe, Onuimo, and Isiala Mbano LGAs.
For Rt.Hon. Arthur Egwim, having gone for two tenures for Ideato North Assembly seat, he is eyeing the Green Chambers to represent Ideato North and South, under APC.
Rt. Hon Ngozi Obiefule is another member that has already purchased the nomination and expression of interest forms to represent Nwangele/Njaba/Nkwerre/Isu at the Federal Constituency. She is also a second timer at the State Legislature.
Although her moves are underground, Igolo Njaba who is in her second missionary journey at the House is aiming the House of Representatives for Nwangele/Njaba/Nkwerre/Isu.
Hon Uche Ogbuagu of Ikeduru State Constituency is in the pitch for Mbaike Reps seat (Ikeduru/Mbaitoli). He has also purchased the forms signaling his readiness in the race.
Among them is Hon Michael Onyemaechi Njoku, member for Ihitte/Uboma LGA. As at yesterday Wednesday, Njoku popularly known as Crown returned his own duly filled nomination form to the APC secretariat, Abuja to represent Obowo/Ehime Mbano /Ihitte Uboma Federal seat.
Aside these five, 18 are on a journey for second tenure, while the remaining 3 are begging for a third term in office.
The second term seekers are; Honorable Amara Iwuanyanwu (Nwangele, APC), Kanayo Onyemaechi (Owerri West, APC), Emeka Nduka (Ehime Mbano, APC), Chigozie Nwaneri (Oru East, APC), Eddy Obinna (Aboh Mbaise, APC), Anyadike Nwosu (Ezinihitte Mbaise, PDP), Frank Ugboma (Oguta, PDP), Philip Ejiogu (Owerri North, PDP), Solomon Anukam (Owerri Municipal, PDP), Samuel Otuibe (Ahiazu Mbaise, APC), Blyden Amajirionwu ( Ngor Okpala, APC), Dominic Ezerioha ( Oru West, APC), Johnson Iheonukara Duru (Ideato South, APC), Chidiebere Ogbunikpa (Okigwe, APC), Herclus Okoro (Ohaji/Egbema, APC), Okey Onyekanma (Mbaitoli, PDP), Ekene Nnodumele ( Orsu, APC), and Paschal Okolie (Orlu, PDP).
While some among the aforementioned 18 Lawmakers have openly purchased their forms, others may do so before end of today being the deadline.
Similarly, three Lawmakers who may still have more legislative input to make in the affairs of the state lawmaking body have joined the league.
The speaker, Rt Hon Kennedy Ibeh (Obowo, APC), Speaker Emeritus, Chiji Collins (Isiala Mbano, APC), and the sacked Lawmaker Obinna Okwara (Nkwerre, PDP) have shown interest for a third term bid. Just like their colleagues, they have all procured the necessary forms to enable them file out at the polls.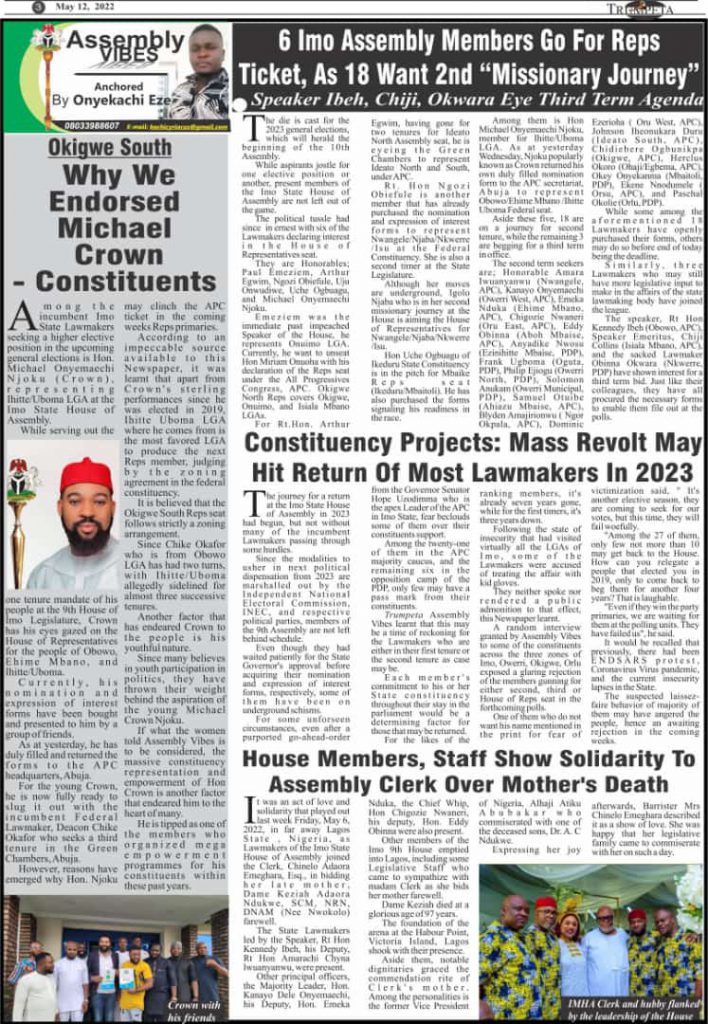 CONSTITUENCY PROJECTS: MASS REVOLT MAY HIT RETURN OF MOST LAWMAKERS IN 2023
The journey for a return at the Imo State House of Assembly in 2023 had begun, but not without many of the incumbent Lawmakers passing through some hurdles.
Since the modalities to usher in next political dispensation from 2023 are marshalled out by the Independent National Electoral Commission, INEC, and respective political parties, members of the 9th Assembly are not left behind schedule.
Even though they had waited patiently for the State Governor's approval before acquiring their nomination and expression of interest forms, respectively, some of them have been on underground schisms.
For some unforseen circumstances, even after a purported go-ahead-order from the Governor Senator Hope Uzodimma who is the apex Leader of the APC in Imo State, fear beclouds some of them over their constituents support.
Among the twenty-one of them in the APC majority caucus, and the remaining six in the opposition camp of the PDP, only few may have a pass mark from their constituents.
Trumpeta Assembly Vibes learnt that this may be a time of reckoning for the Lawmakers who are either in their first tenure or the second tenure as case may be.
Each member's commitment to his or her State constituency throughout their stay in the parliament would be a determining factor for those that may be returned.
For the likes of the ranking members, it's already seven years gone, while for the first timers, it's three years down.
Following the state of insecurity that had visited virtually all the LGAs of Imo, some of the Lawmakers were accused of treating the affair with kid gloves.
They neither spoke nor rendered a public admonition to that effect, this Newspaper learnt.
A random interview granted by Assembly Vibes to some of the constituents across the three zones of Imo, Owerri, Okigwe, Orlu exposed a glaring rejection of the members gunning for either second, third or House of Reps seat in the forthcoming polls.
One of them who do not want his name mentioned in the print for fear of victimization said, " It's another elective season, they are coming to seek for our votes, but this time, they will fail woefully.
"Among the 27 of them, only few not more than 10 may get back to the House. How can you relegate a people that elected you in 2019, only to come back to beg them for another four years? That is laughable.
"Even if they win the party primaries, we are waiting for them at the polling units. They have failed us", he said.
It would be recalled that previously, there had been ENDSARS protest, Coronavirus Virus pandemic, and the current insecurity lapses in the State.
The suspected laissez-faire behavior of majority of them may have angered the people, hence an awaiting rejection in the coming weeks.
OKIGWE SOUTH
WHY WE ENDORSED MICHAEL CROWN
CONSTITUENTS
Among the incumbent Imo State Lawmakers seeking a higher elective position in the upcoming general elections is Hon. Michael Onyemaechi Njoku (Crown), representing Ihitte/Uboma LGA at the Imo State House of Assembly.
While serving out the one tenure mandate of his people at the 9th House of Imo Legislature, Crown has his eyes gazed on the House of Representatives for the people of Obowo, Ehime Mbano, and Ihitte/Uboma.
Currently, his nomination and expression of interest forms have been bought and presented to him by a group of friends.
As at yesterday, he has duly filled and returned the forms to the APC headquarters, Abuja.
For the young Crown, he is now fully ready to slug it out with the incumbent Federal Lawmaker, Deacon Chike Okafor who seeks a third tenure in the Green Chambers, Abuja.
However, reasons have emerged why Hon. Njoku may clinch the APC ticket in the coming weeks Reps primaries.
According to an impeccable source available to this Newspaper, it was learnt that apart from Crown's sterling performances since he was elected in 2019, Ihitte Uboma LGA where he comes from is the most favored LGA to produce the next Reps member, judging by the zoning agreement in the federal constituency.
It is believed that the Okigwe South Reps seat follows strictly a zoning arrangement.
Since Chike Okafor who is from Obowo LGA has had two turns, with Ihitte/Uboma allegedly sidelined for almost three successive tenures.
Another factor that has endeared Crown to the people is his youthful nature.
Since many believes in youth participation in politics, they have thrown their weight behind the aspiration of the young Michael Crown Njoku.
If what the women told Assembly Vibes is to be considered, the massive constituency representation and empowerment of Hon Crown is another factor that endeared him to the heart of many.
He is tipped as one of the members who organized mega empowerment programmes for his constituents within these past years.
HOUSE MEMBERS, STAFF SHOW SOLIDARITY TO ASSEMBLY CLERK OVER MOTHER'S DEATH
It was an act of love and solidarity that played out last week Friday, May 6, 2022, in far away Lagos State , Nigeria, as Lawmakers of the Imo State House of Assembly joined the Clerk, Chinelo Adaora Emeghara, Esq., in bidding her late mother,
Dame Keziah Adaora Ndukwe, SCM, NRN, DNAM (Nee Nwokolo) farewell.
The State Lawmakers led by the Speaker, Rt Hon Kennedy Ibeh, his Deputy, Rt Hon Amarachi Chyna lwuanyanwu, were present.
Other principal officers, the Majority Leader, Hon. Kanayo Dele Onyemaechi, his Deputy, Hon. Emeka Nduka, the Chief Whip, Hon Chigozie Nwaneri, his deputy, Hon. Eddy Obinna were also present.
Other members of the Imo 9th House emptied into Lagos, including some Legislative Staff who came to sympathize with madam Clerk as she bids her mother farewell.
Dame Keziah died at a glorious age of 97 years.
The foundation of the arena at the Habour Point, Victoria Island, Lagos shook with their presence.
Aside them, notable dignitaries graced the commendation rite of Clerk's mother.
Among the personalities is the former Vice President of Nigeria, Alhaji Atiku Abubakar who commiserated with one of the deceased sons, Dr. A. C Ndukwe.
Expressing her joy afterwards, Barrister Mrs Chinelo Emeghara described it as a show of love. She was happy that her legislative family came to commiserate with her on such a day.