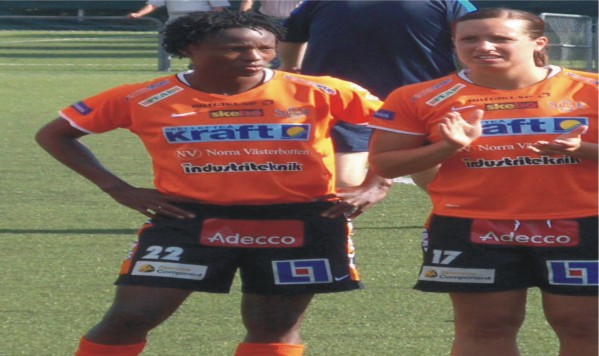 Super Falcons striker, Perpetua Nkowocha regrets considering to quit the game following Nigeria's failure to win the Africa women's championship title in Equitorial Guinea.
The reigning African player of the year managed two goals out of her personal target of 15 and saw her side record their worst outing at the biennial football showpiece.
Nkwocha had planned to quit in grand style in November but the testimonial ceremony is being hampered by logistics forcing the organizers to consider March 2013.
But the forward said the decision to quit the beautiful game that brought her honours remains pending at least for the moment.
"The decision to quit is still pending. Of course, I would love to see off the testimonial match first. It was to hold in November, now I don't know when next. I8 learnt the NFF wants some roles and is trying to fix a date will suit every party.
"I felt bad over what happened at the AWC in Equatorial Guinea. That's the only disappointment pve suffered in my career.
"Perhaps that's why many concerned persons want me to reconsider my stands to quit and hold on to a title.
"I'm being told the team still need my service. Of course, I want to quit in a big way, right now I don't know whether the fallout of the AWC in Equitorial Guinea met the scenario under which I want to quit.
"I know I have to take a firm decision soon whether I'm holding on or quitting. I'll take that decision and make it know to the world, "Nkwocha said.
The Sweden based Sunnana Sk hit-woman is holidaying at her country home in Owerri, Imo state and plans to return to her base in January.