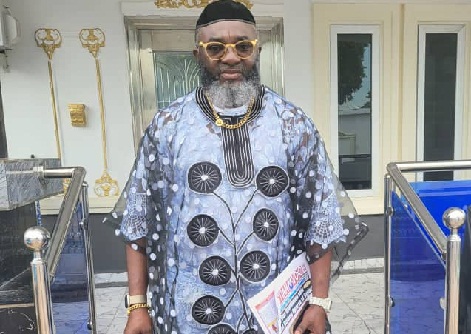 ..Says, "Im A Grassroots Man"
..Sets To Join Imo Contingent @ Asaba
The newly appointed Imo State Sports Commission Chairman, Prince Sir Eleazar Onyewuchi Ogbonna, has expressed his intention of intensifying the promotion of grassroots sports in the state.
In a statement made available through his media assistant, Sir Ogbonna maintained that grassroots sports is cardinal to the development of sports. He emphasized that his administration as the Sports Commission chairman will give priority to the development of sports at the grassroots level.
"I'm a grassroots person, and I've been involved in grassroots development for so many years before my appointment," Sir Ogbonna stated.
"I'll focus on discovering talented athletes of Imo State origin and giving them a new direction.
"I'll work with scouts and coaches to ensure that new discoveries are made."
Sir Ogbonna reiterated that before coming on board, he had a foundation that catered for retired sports men and women in Imo State and was constantly reaching out to them.
"I have been in the forefront of putting smiles on the faces of thousands of retired sports men and women of Imo State origin.
"For instance, few days before my appointment, I sent a delegation to Asaba to empathize with ailing former Green Eagles captain, Henry Nwosu."
Chief Ogbonna did not stop there. He spoke with Nwosu's family and medical personnel abroad about flying him overseas for treatment.  "Mrs. Julie Onyewuchi, Nwosu's sister, was instrumental in connecting my foundation with Femi Otedola Foundation, and we're still in the process to ensure that Nwosu gets the best treatment available anywhere in the world."
For many years, Sir Ogbonna worked with Imo State youth organisations. As the Youth Sports Federation of Nigeria YSFON, South East Sports Ambassador he had a project that touched the lives of Imo State citizens in  special ways.
He gave them a new lease of life by taking them off the streets, giving them a sense of belonging, and helping most of them on how to put food on their table.
"I can assure you that with this appointment, I'll improve on that project and give it a broader dimension.
"I equally have plans about facility development and maintenance. Everything being equal, I'll strive to ensure that sports facilities in Imo State are given the attention they crave.
"By the grace of God, I'll excavate all within my competence to see that I recover the (lost) sports glory of Imo State by way of effective and efficient sports management.
Chief Ogbonna enjoined  all the stakeholders in the State to rally round to ensure that he achieves his dreams.
"For me to effectively execute this Herculean task, the cooperation of Imolites is paramount. I'm quite confident that if we can pull our forces together, we will move sports in our state to sublime heights."
Sir Ogbonna is currently overseas negotiating with his foreign partners in a partnership plan that will turn Imo State Sports around for the better.
However, before he left Nigeria, he spoke at length with the Imo State Director of Sports, Ferdinand Emeana.
Both administrators, while rubbing minds on the effective execution of the National Sports Festival taking place in Asaba, Delta State, agreed to work together to ensure a glorious outing for the State.
"I'll be joining the Imo State contingent to the National Sports Festival in Asaba, very soon. The team is in high spirit presently, and I believe strongly that this year's event will end in praise for our dear State."