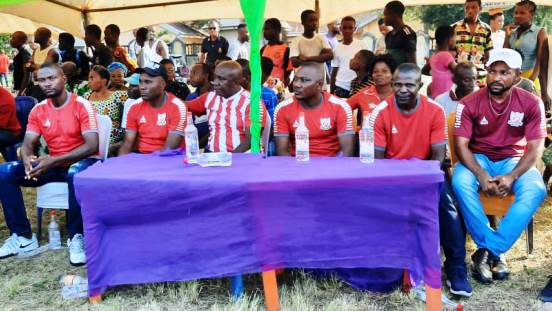 The Board and Management of Heartland FC of Owerri has appreciated the number one Citizen, Sen Hope Uzodimma for his kind gestures towards the club and have promised to repay the faith reposed in them by ensuring that the club returns to the elite division.
The management made the call during a parley with the Commissioner of Sports Hon Emeka Okoronkwo in his Office.
Reacting, the Sports Commissioner hailed the team for winning her first competitive game of the season while assuring that Governor Hope Uzodimma will champion operation "Return Heartland to the NPFL"
He admonished the management to work harmoniously to make Imo people proud while eschewing gossip bickering and negative vibes.
Special Adviser to the Governor on Heartland affairs, Sir Emmanuel Ochiagha
Appreciated the Commissioner for his efforts towards reviving sports in the State and implored the management of Heartland to make good use of this opportunity to make the Governor and Imolites proud.
Vice Chairman of Imo FA , Barrister Ifeanyi Dike Advised the management to conduct themselves with decorum and decency , assuring that IMO FA as Fathers of football in the State are determined to play their role in the development of football in the State
The parley was attended by Heartland management led by Mr Promise Nwachukwu, The Board Chairman (Chief Anozie Nzewuihe) Technical Crew, The Sa on Heartland affairs Sir Emmanuel Ochiagha , IMO FA Vice Chairman Barrister Ifeanyi Dike to mention but a few.
Heartland FC will engaged Amanda FC on Thursday 9th of March in the quarter finals of the on going IMO FA Cup at the practice pitch of the Dan Anyiam Stadium..
Heartland Comets will also be in action same day against Cenn FC by 2pm.
A victory for Heartland FC and Heartland Comets will set up a delicious Semi Finals between the main team and her Youth side.