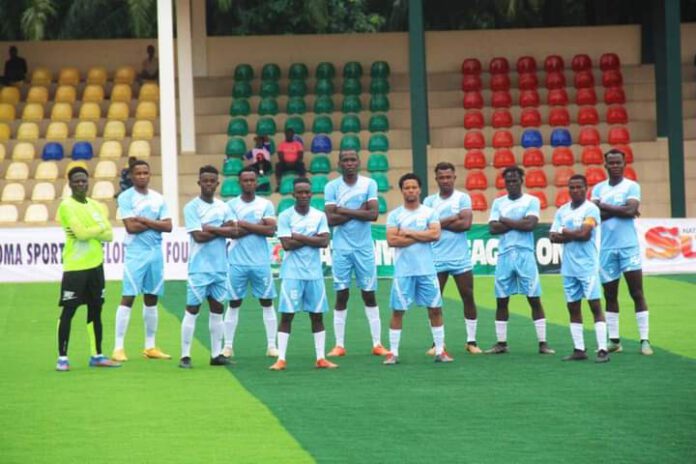 ..As 2nd Round Hostilities Kicks Off With Blockbuster Fixtures
The inaugural Nationwide League One/Ikukuoma Foundation Super Cup will entere its climax stage today Tuesday with six blockbuster fixtures in the second round games at the Uboma Secondary School Stadium Complex, Ihitte/Uboma LGA.
Campos City FC, Ave FC, Divine Praise, Dohz Academy, Tudun Wada and Ikukuoma FC are the teams that made it to the next phase of the tournament.
According to a release made available to Trumpeta Sports Desk, the teams have been paired to two Groups, A and B with three teams each. Campos City FC, Ave FC and Divine Praise make up Group A, while Group B has Dohz Academy, Tudun Wada as well as home team, Ikukuoma FC will be keeping fans at the edge of their seats in the next three days.
The release further indicated Group B fixture between Dohz FC Academy and Tudun Wada FC will get the second round games on the way by 8am at the Uboma Secondary School Stadium complex, to set the pace for the two teams ahead of the grand finale while the next game by 10am is between Campos City FC and Ave FC.
Campos City FC will play its final game as they tackle Divine Praise on Wednesday in an 8am fixture, same goes for Dohz Academy who lock horns against Ikukuoma FC at 10am.
Thursday hosts the final second round group fixtures as Tudun Wada will take on Ikukuoma FC at 8am while it will be the turn of Ave FC versus Divine Praise two hours later.
The teams will play two group matches each, while two teams one each from the two groups with the highest number of points and goals/goals difference automatically qualifies for the final on Saturday September 16, 2023
The Full Fixtures is as follows;
Group A: 
Campos City FC vs Ave FC  – Tuesday 12/9/23 @10am
Divine Praise vs Campos City FC -Wednesday 13/9/23 @ 8am
Ave FC vs Divine Praise -Thursday 14/9/23 @10am
Group B:
Dohz Academy vs Tudun Wada -Tuesday 12/9/23 @ 8am
Ikukuoma FC vs Dohz Academy -Wednesday 13/9/23 @10am
Tudun Wada vs Ikukuoma FC -Thursday 14/9/23 @8am