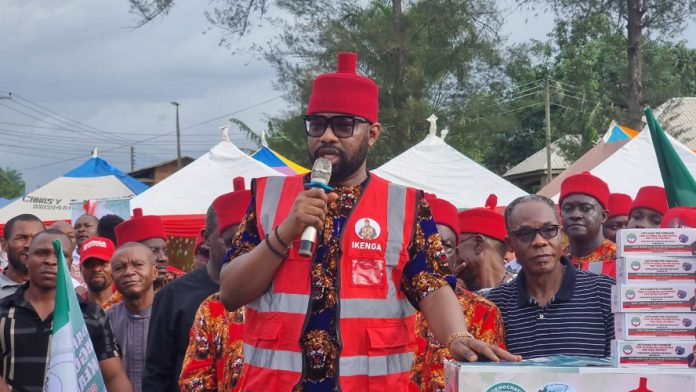 The member of the House of Representatives representing Ideato North/South Federal Constituency of Imo State, Hon. Ikenga Ugochinyere has cautioned the Imo state governor, Hope Uzodimma, against dragging the National Assembly into the issues he has with him.
Ugochinyere's caution came on the heels of news reports indicating that Uzodinma and Speaker of the House of Representatives, Hon.Tajudeen Abbas, were heading for a showdown, with the former accusing the latter of promoting Ugochinyere to undermine him and the All Progressives Congress (APC) in Imo State.
Uzodimma is said to be unhappy with Abbas for allegedly encouraging and promoting Ugochinyere, who is a member of the main opposition Peoples Democratic Party (PDP), by appointing him as the chairman of House Committee on Petroleum (Downstream).
In a statement on Wednesday, Ugochinyere described the report as a failed attempt at intimidating the Speaker of the House to begin to take instructions from the Governor of Imo State.
While demanding a retraction of the statement from Uzodimma and an apology to the parliament, the lawmaker lamented that the newspaper publication tried to undermine the integrity and privileges of the parliament.
Ugochinyere said, "My attention has been drawn to newspaper reports obviously sponsored by the Imo State Government aimed at violating the privileges of the Speaker of the House of Representatives, Rt. Hon. Tajudeen Abbas.
"Hope Uzodimma is now preaching loyalty to President Tinubu, this is the same President Tinubu, Hope Uzodimma promised to disgrace and spent huge resources financing Senator Ahmad Lawan in the failed childish attempt to disgrace at their party primary.
"Will Uzodimma be reporting to Tinubu if he was defeated at the primary? Uzodimma should go and report anyone he likes to his President, Ahmad Lawan and himself who was the imaginary VP. There must be an end to the shameless act of trying to blackmail people when you do not get what you do not even deserve in the first place.
"Was it Abbas that helped me defeat your candidate who won only one polling unit out of 346 polling units in Ideato Federal Constituency? All your commissioners, local government chairmen and hundreds of advisers lost their polling unit to me.