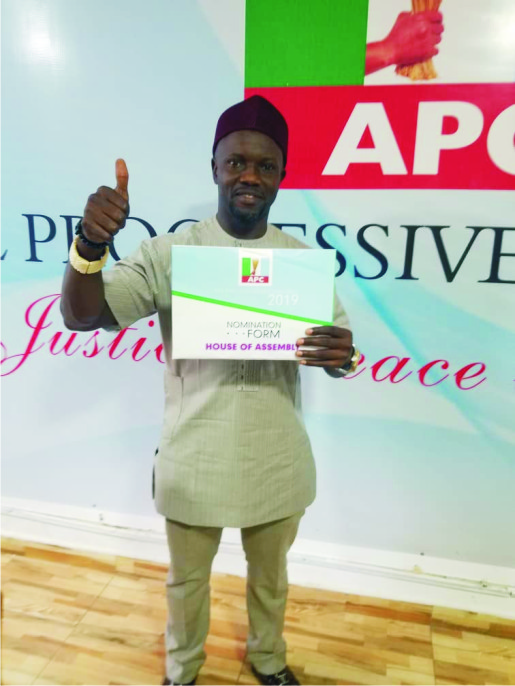 By Amaechi Kingsley
Moved by the desire to effect qualitative representation for the people of Aboh Mbaise state constituency in Imo House of Assembly, Hon. Amb.Chimezie Njoku accompanied by members of Chizet Foundation and members of his constituents took a bold step to pick his nomination and expression of interest form at the All Progressives Congress, APC secretariat last Monday 10th, September, 2018.
Speaking, the Imo State House of Assembly hopeful for Aboh Mbaise and founder Chizet Foundation told Trumpeta newspaper that he picked the nomination form to contest for Aboh Mbaise state assembly seat to better his constituency adding that, there is a lot to be done to alleviate the sufferings of his constituents.
The advocate for youth inclusiveness in governance and President, Imo State Union South Africa, revealed that the support he got from his constituents, at the grassroots were expressions of an overwhelming desire to change the current phase of representation in their time.
The entrepreneur cum philanthropist, who expressed enthusiasm with the current leadership of APC enjoined Imolites to be steadfast and hopeful as he promised efficient and effective representation. According to him, "my people need meaningful change that's why they are rallying support for me to change the tides of leadership. Votes will be casted and counted this time" he said.
In their remark, the coordinator of Chizet Foundation, Mr Kizito Ogu described Hon Chimezie Njoku as a humble person, the right caliber and candidate with the requisite knowledge to represent his people effectively at the state chamber having executed several selfless projects in the area.
The group who accompanied the aspirant to the party office reiterated the support of youths and women from the area and assured that with their encouragement he will emerge as the victor in 2019 after party primaries.
According to them, "people of Aboh Mbaise are desirous of a true leader to represent us at the IMHA. With the zeal, talents and dynamic leadership prowess of Hon. Amb Chimezie Njoku, we are rest assured to be led into the promise land. He will excel, we'll ensure through our support". They concluded.