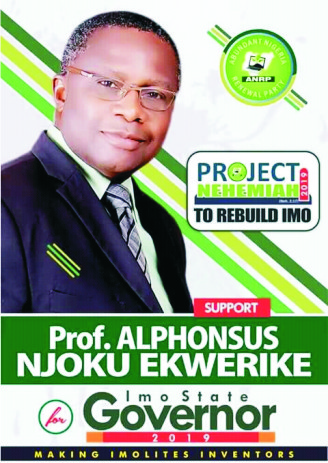 By Amaechi Kingsley
As the 2019 general elections draws near, a household name and front line gubernatorial aspirant on the platform of Abundant Nigeria Renewal Party ANRP, Professor Alphonsus Njoku Ekwerike has gone steps further to prove his unalloyed commitment in rebuilding Imo, to make the state a hub for innovators, inventors and investors if he takes over government house in 2019.
The professor of Neuroendocrinology and invention technology, Prof Ekwerike made this known to Trumpeta newspaper in a statement while in the United State of America where he sealed agreements with innovators and investors to build power (electricity) generation, distribution and marketing, agro-based industries, education, environmental, public health/medical services, silicon valley and many more to attain the desired 21st century new Imo of our dream.
Harvard trained clinic researcher, rare/tropical disease legislative advocate to the United State Congress maintained that his Governorship ambition is not aimed at enriching himself but for Imolites to adopt innovation as their birth right with his STEM – Invention technology program and retire all old politician to their merit, creating pathways for the youths to take over.
Prof Ekwerike promised that as soon as he is sworn in as governor, Imolites shall feel positive impact through development as US business men, women, and professionals have expressed willingness to invest in the diverse sectors of the state's economy haven organized a send forth, mandating him and his entire project Nehemiah campaign to rebuild Imo state.
The Governorship hopeful who have learnt and actively participated in the American democratic process affirmed that US technology are rated the best in the world and allowing them to show us how to make it work will open up doors for countless opportunities for Imolites.
The vibrant academic guru admonished Imo youths to arise for a better Imo state by getting their PVCs to support project Nehemiah campaign for a new and better Imo.
According to him, "innovators and investors are coming to Imo to support project Nehemiah campaign in creating jobs through power (electricity), agro based industries, the health sector and many other sectors in the state. This agreement was sealed in addition to many others mapped out for  Imolites through me at the USA, please support us by getting your PVCs ready to usher us into Imolites
(Douglas ) House come 2019 for a new Imo" he concluded.