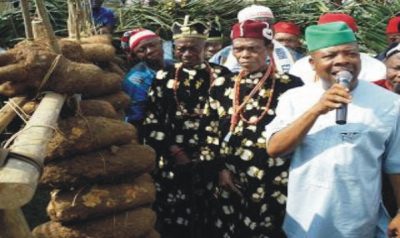 By Okey Alozie
The 2019 Iriji Mbaise will be celebrated today at Aboh Mbaise. Information revealed that the state governor Rt Hon Emeka Ihedioha who is a native of Mbutu in Aboh Mbaise local Government area has finally brought peace and unity by settling all the warring factions and the stakeholders ahead the new yam festival.
Report has it that before the intervention of the governor, Ezuruezu which appeared to be the apex political group, disagreed with Ndi Ezeji and the Royal fathers of Mbaise nation on the planning of the ceremony.
This disagreement almost led to the cancellation of this years' iriji but with the intervention of Ihedioha, peace was restored among the 3 groups.
Trumpeta learnt that the governor has now provided enough fund for the execution of the programme and has also warned against distraction from any Mbaise son or daughter against the smooth conduct of the event.
The Mbaise nation made up of 3 local government areas namely Aboh, Ahiazu and Ezinihittee Mbaise will use the forum to receive their elected sons and daughters.
Those expected to take the centre stage include Governor Emeka Ihedioha, Prof (Mrs) Viola Onwuliri, Emeka Chinedu, Chief Richmond Osuji, Nze Onwunali and others.
As usual, the Iriji Mbaise's programe will be centered on the roasted yam which will be presented by the Ezeji's (Yam Kings).
In early hours of Thursday 16th of August 2019, the rituals will be performed by the Royal fathers and Ezeji's who are the true custodian of the new yam festival.
Thereafter all the traditional rulers are expected to come out with their subjects to showcase their produce infront of the visitors.
Later in the day, award and special recognition will be given to the invited guest.
It is also expected that the development union will use the forum to raise fund.