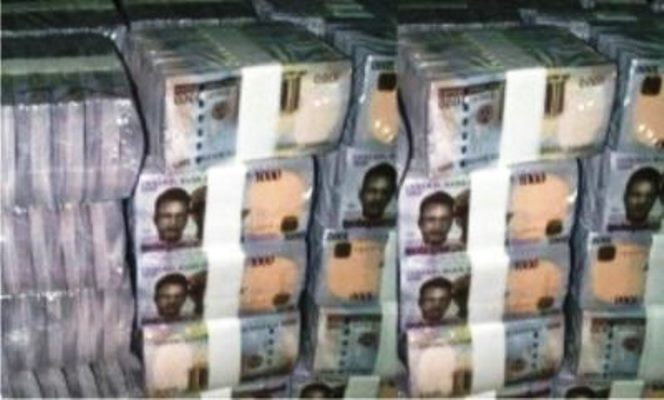 Tunji Adedeji
There was a mild drama around MCC road by Chukwuma Nwoha last Thursday when the Reinforcement Team of the Imo State Internal Revenue Service (IIRS) and officials of Imo State Environmental Transformation Commission ENTRACO engaged in what could go for a free-for-all fight over accusation of alleged illegal extortion of N25,000 and diversification of Imo IGR by officials of ENTRACO.
Trumpeta reporter who was on ground during the encounter gathered that a man identified as Mr Ayozie Joseph ,Chairman of Reinforcement Team IIRS and his team were trying to enforce Gov Uzodinma's instruction ,warning against intimidation and harassment of commuters in the state capital by releasing vehicles allegedly impounded by one Hon Clinton Amadi before they were physically attacked .
The ugly scenario saw clothes of the IIRS Reinforcement team lead and some of his colleagues turned to shred as the Public Relation Officer was also assaulted and almost had her mobile phone damaged.
One of the IIRS official who pleaded anonymity and a taxi drivers alleged that the ENTRACO taskforce have deviated from their primary official assignment of ensuring sanity on the road and were now engaging in illegal extortion of money from drivers.
He said the physical attack started when their lead Ayozie ordered the release of vehicles allegedly impounded by Amadi at the local beer parlor around Chukwuma Nwoha bus stop ,
One of the accosted taxi driver plying MCC road route, Mr. Stanley Anyanwu, when queried said some officials of the taskforce, were in the habit of extorting private and commercial drivers who paid as much as N25,000 when caught for just parking ,even when there is no signal such as no parking on the way.
Anyanwu alleged that most of their members are not happy with the development, a situation where you have to pay ENTRACO some token as gratification just to allow them load passengers anywhere in the town is condemnable.
He also alleged that his vehicle and so many other commercial vehicles were parked at a beer parlor joint around Chukwuma Nwoha same area instead of the ENTRACO premises around Aba Owerri road for days before the intervention of IIRS.
Recall that the Governor of Imo State, Sen. Hope Uzodinma recent warned against intimidation and harassing of commuters in the state capital under any guises.
The governor in a release signed by his media Adviser Oguwike Nwachukwu and made available to newsmen said "these persons contrive all form of spurious allegations to assault and extort money from individual drivers and computers."
This allegation has been going on for some time with perpetrators acting as if they are working for state government.
Oguwike said the governor never set up any taskforce to harass neither motorist or computers.
"Imo Government is embarrassed by the activities of this hoodlums and has directed security agencies to apprehend and prosecute anyone caught molesting the commuting public. Touting must be uprooted from Imo State, he said.
All effort made to reach the ENTRACO boss proved abortive as he refused to comment when Trumpeta reporter tried to bring the report to him at Concord Hotel last week Thursday.