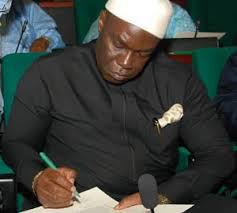 The Senator representing Imo East Senatorial District, Owerri Zone, in the Senate of Nigeria, Senator Francis Ezenwa Onyewuchi has commissioned three modern town halls his office built for Owerri Nchi Ise, Emii Ancient Kingdom, and Umuoma, Nekede Autonomous Community as part of the districts infrastructural development programme.
Commissioning the town halls which were fully furnished, Senator Onyewuchi noted that his penchant for human capital development and calling from his creator to serve his people and humanity spurred him into undertaking the projects.
Senator Onyewuchi who, noted that his life is one  of selfless service to his people, disclosed that he built the legacy projects as his way of appreciating the enormous support the communities gave to him and  other PDP candidates in the 2019 elections.
According to him, since mounting elective office his major concern and focus have being how to make the electorate smile, adding that he derives immense joy seeing his people happy.
He disclosed that he conceived the projects to serve as centres of unity, where the peoples of the communities will come together in comfort and safety to discuss issues of unity, peace, progress and growth and development.
He called for adequate protection and maintenance of the halls, pointing out the growth and development can only come when projects and facilities already provided in communities are adequately maintained.
He equally drew their attention to the fact that the facilities could also become veritable sources of income as they can be rented  out to individuals and groups for social events at affordable costs.
Sen Onyewuchi fondly nicknamed "Mr Empowerment" for his trail blazing strides in that area assured the people of the zone of large scale empowerments in coming months.
He recalled his many empowerment initiatives that have touched thousands of lives especially women and youths such as  the training and equipping of the two groups in culinary/ catering, GSM repairs/ Unlocking of phones, Videography, photography, decorations and fashion designing.
According to him he has specifically prioritized economic empowerment of women because doing so will put food on their respective families tables.
He stressed that if families are peaceful, happy and stable, the larger society will experience same since families constitute communities.
Senator Onyewuchi assured that he will continue to do his best in the area of human capital development for the good of families in the zone and the state at large.
In their speeches, Hon Solomon Anukam and Philip Ejiogu, members representing Owerri Municipal and Owerri North Constituencies in Imo House of Assembly described the senator as worthy role model whose exemplary leadership they are proudly copying.
They said he has remained a consistent performer right from the House of Representatives, stressing that he was able to break the jinx of one term representation in Owerri Federal Constituency because of his landmark achievements in the House of Representatives.
Contributing, Eze Sonde Okoro of Emii, Eze Geoffrey Jimogu of  Umuanunu, Obinze and Eze Morrison Eke PhD, of Umuoma, lauded him for being a true representative of the people, while urging him not to relent in his efforts in attracting projects and services to the zone
Leaders of the three communities namely Chief Analyn Nwaneri, Barr Willie Amadi, Mrs Maureen Emenyeonu, Hon Kenneth Akakporo, chief Kennedy Zanders and Chief Anthony Ajoku, an APC chieftain, heaped praises on the lawmaker for his uncommon leadership style which has seen him touch almost every autonomous community with one project or another, even as they openly assured him of continuing support in his future political pursuits.