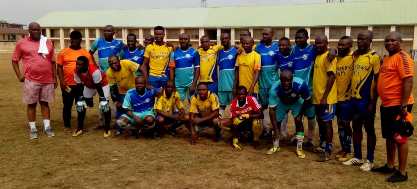 The President Jayden Robinson Youth Foundation (JRYF), Comrade Jayden Robinson has expressed his foundation's desire to help emancipate African youths using skills acquisition and youth sports development.
Jayden Robinson who made this declaration last Saturday at the official opening of the foundation/JRYF skills acquisition center at No 8 Nsu Street, Old Federal Housing Estate by Chukwuma Nwaoha road, Owerri said the foundation is a non -profit organization with special interest in empowering African youths and bridging the gap of graduate unemployment.
The Abueke in Ihitte/Uboma LGA born philanthropist said the foundation was borne out of his visionary initiative to inform, mentor and empower less privileged African youths.
He maintained that the foundation's core mission is to build skills enhancement training and youth sports development to empower African youths through its inaugural projects, Jayden Robinson Sports Academy (JR SA) & Jayden Robinson Skills Enhancement Training (JR SET) which he noted are their channel projects for achieving their objectives.
"The foundation has plans to bring expert trainers and professional sports coaches who have partnered with JRYF to teach core skills essential for youth development", JR noted.
According to him, the foundation's target population will be students in Senior Secondary Schools as they also hope to start by giving basic knowledge in a four -weeks intensive training in Handcrafting, Nursing, Basic Radio Presentation and Cyber Security/Artificial Intelligence as those who excel will equally be empowered through scholarships, certified professional trainings, internship and event job placements.
Giving a brief account of what motivated his vision and mission, JR who graduated with BA Mass Communication from University of Nigeria, Nsuka UNN, and is also certified for Project Monitoring & Evaluation by Pro -Active College Pretoria, South Africa said it can be clearly seen in how he built Innovative Data Solution (IDS Africa) from a small business started in his living room in June, 2012 to becoming a household name in Marketing & Social Research Industry in Africa and beyond.
His love for sport as a key to building character, confidence and integrity in youths motivated him to enroll for dual Masters programme in International Sport & Event Management at the University of Applied Science, Europe (Germany) and Real Madrid Graduate School (Spain) with the intention of adding more value to his foundation.
Narrating the foundation's programme to the audience during the ceremony which was well attended by dignitaries cutting across different works of life including the traditional ruler of Abueke Community in Ihitte/Uboma LGA, HRH Eze Wilford Mbagwu (Abu II of Abueke), the foundation's Head, Media & Communication, Kufre Ekpe said the rate of juvenile crime in Nigeria is rapidly on a high adding that the rate of job unemployment for these ones is also discouraging with the latest figure at 50% among young people within the age of 15-34 years.
He said more youths are lacking basic and necessary skills and proficiencies for value creation, addition and retention pointing out that JRYF will be aiming to develop capabilities and entrepreneurial acumen in the youths through sports and skills acquisition.
Reacting to the press on the event, HRH, Eze Mbagwu commended his subject, Jayden Robinson for his vision and wonderful programme to help improve the life of the less privileged ones in our society adding that the entire community is in support of this good gesture and humanitarian work praying for God to continue to guide and prosper his work and family.
Other dignitaries who also attended the event are; former house member for Ihitte/Uboma state constituency in the Imo Assembly, Hon (Barr) Basil O Okafor, Pastor Levi Elendu, Acting President General/Secretary General Eluama Abueke in Ihitte/Ubima LGA, Comrade MC Nwachukwu, Secretary Abueke Development Union, among many others.