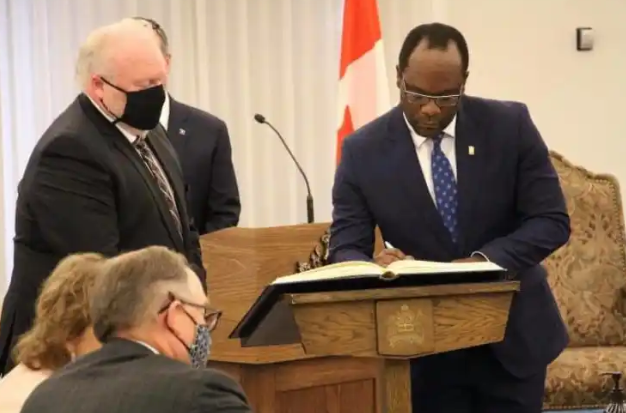 By Edmund Onyeananam
An apex socio-political advisory council, Mbaise policy roundtable, MPR incorporated has commended the appointment of their son, Kaycee Madu as the first black Minister of Justice and Solicitor General of Alberta in Canada.
In a congratulatory message signed by Professor Eddie Oparaoji, Dr Jude Iheoma and Atty Paschal Ukpabi, Chairman, Chief Program Director and Executive Secretary/Legal Adviser respectively, the group described the appointment of their son which came after his earlier dual historical accomplishments as a proper recognition of his immeasurable contributions to Professional and public service world. It could be recalled that Hon Justice Kaycee Madu was earlier appointed Minister of Municipal Affairs for Alberta ,Canada, the third largest of the province, and member of the legislative Assembly.
The group expressed confidence that their beloved son will be diligent in the execution of his assigned duties.
The statement reads; "Hon Minister of Justice and Solicitor General of Alberta, Canada, a son of Mbaise nation, we congratulate you our role model. Mbaise, Imo State, Nigeria and indeed the entire black race are proud of you.
These your accomplishments connote that competence and excellence are not racially ascribed, or unhindered by socio-cultural heritage, an indication that if one works hard and play by the rules, in an accommodating environment, the sky is only the starting line. We will always remember you in our prayers as we offer you our hands of partnerships and friendship as you administer your very new strategic portfolio".
Responding, Mr Kaycee Madu thanked the organization for their best wishes and prayers, while expressing joy over his appointment which has brought happiness and hope to the black race and to Mbaise nation in particular. The First black Justice Minister disclosed that he has been receiving calls and congratulatory messages from all over the States including Nigerian President, Mohammadu Buhari.
In his statement, the media coordinator, MPR, Mr Casca Ohanele observed that minister Kaycee's appointment will motivate other sons and daughters of Mbaise, to achieve greater heights, thereby making Mbaise nation proud.