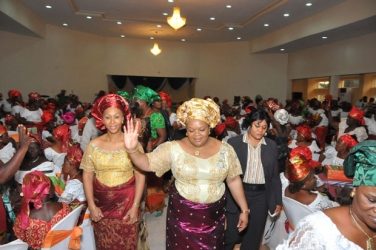 By Okey Alozie
The former First Lady of Imo State, Ugonneoma Nkechinyere Okorocha, has raised alarm over what she described as political rancor, acrimony and bitterness in the state and entire Nigeria.
Nneoma Okorocha said this on Sunday during a church service organized for the dedication of a new church she built in Avu, Owerri West.
The former First Lady appealed to politicians to consider it necessary to forgive each other and allow peace to rain in Imo State and the entire Nigeria.
"There is bitterness in the air, people should be their brother's keeper" she said. Nneoma called for immediate reconciliation for progress to come adding that nothing could in the atmosphere where there is confusion, disunity and misunderstanding.
She also told Journalists that she will continue to preach peace as well as advance the frontiers of humanity.
To the glory of God Almighty, Nneoma Okorocha built a sanctuary at Avu in memory of late Evelyn Chidi Obiyo, the church which was recently completed was on Sunday 6th of September 2020, dedicated by the preliate Methodist church of Nigeria, His Ememence Dr S.C.K Uche JP, assisted by Bishop of Owerri Diocese, Rt Rev D.O Mark Fiia JP.
During the church service, the man of God blessed the former First Lady as he urged other women to emulate her foot steps by adding values to the society.
Methodist church women and the entire Obiyo family gave special gift and award to Nneoma Nkechi Okorocha for service to humanity.
Hon Barr Ugochi Nnanna who gave vote of thanks praised Okorocha's wife for doing good to Imo women. Barr Ugochi Nnanna who is a frontline politician and woman leader in the state promised that Imo women will continue to pray for Okorocha's family as well as to reciprocate to their good gesture.
People from different walks of life attended the church dedication service.
Engr Chidi Ibe, Dr Mrs Uche Ejiogu, Dr Mrs Getrude Uduka, Barr Nkiru Igboanusi and other rescue mission people were physically seen at the church.