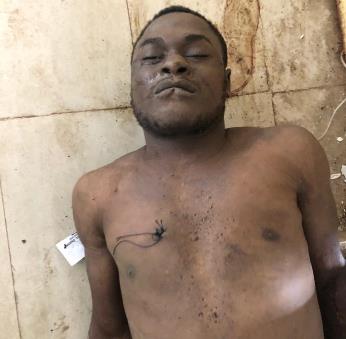 BY OKEY ALOZIE.
  Emmanuela Chika Onwumere on Wednesday 16th of December at EndSars panel holding at old high court Owerri revealed that her junior brother Chiedoziem Darlington was shot dead by the military men at Nworieubi in Mbaitolu LGA on 21st of October 2020 in front of their family house.
The young lady who said that she witness her brother's death on that faithful day narrated that they were all in front of their family house at Amauzara Nworieubi in Mbaitolu LGA of Imo State when a bullet fire by the Army people hit at the brother and he slumped. She said that a good Samaritan came for help.
She disclosed that the body of her late brother was laid to rest on the 23rd of October which is two days after he was shot dead.
"I file petition to the Commission and brought the picture of my brother including other documents.
"I was physically present when the whole thing happened". Emmanuela cried out.
Speaking further, she told the Commission that she wants Justice and compensation of 50million adding that her brother was to travel out of the country if not his death.
Information available to us revealed that his papers for oversea travel is being processed before the news of his death came up.
During cross examination, she was asked to explain how she found the dead body of her brother at F.M.C Owerri, she told the panel that her uncle saw many corps at F.M.C Owerri including that of her brother lying in front of the hospital mortuary.  She also said that she was unable to identify the good Samaritan who was shot dead while with the brother on their way to the hospital.
She also said that she did not report to any police station what happened on 21st of October.
The Commission chairman sympathized with the lady but advised people to be very careful during crisis.  It could be recalled that the EndSars protest led to burning of police station at Nworieubi during that period.  As at that time, some people lost their lives.