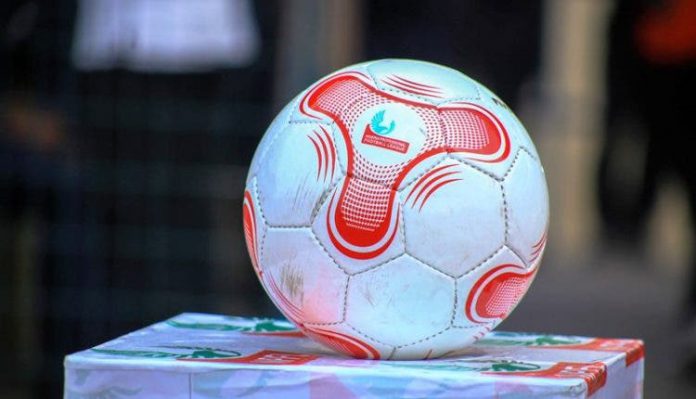 The maiden edition of Kun Khalifat Football Super League which kicked off last Sunday will expose Imo State as the hub for football talents hunt in Nigeria Trumpeta sports desk has learnt.
The league which is stage which is staged at Bishop Lasberry Girls Secondary School Play arena in Irete, Owerri West LGA parades 16 football clubs with mock names of renowned European clubs and had the opening match with Inter Milan FC taking on West Ham United FC.
The well attended match played under Covid-19 directives guideline lived up to its bidding as the proprietor of Kun Khalifat FC and sponsor of the multi million Naira competition, Mr. Michael Amaefule of Obohia in Ahiazu Mbaise LGA took the kick off amidst football fans, enthusiasts, supporters, ex-internationals and administrators among other cheering dignitaries.
The game lived beyond expectations as both teams exhibited professionalism, skills artistry and passion to excel even though they both missed litany of scoring chances. However, Isiguzo Uchechi, the goal keeper of Inter Milan made alot of saves and frustrated the goal thirsty of purposeful but aggressive West Ham United FC.
Interestingly, Kun Khalifan never hid his emotions on his support and love for West Ham United FC, this became obvious on the 70th minute when West Ham ace striker mesmerized Inter Milan defensive wall and dented the goal savings prowess and records of Inter Milan Isiguzo Uchechi and craftily netted in the only goal of the match which made the excitement of Amaefule looks like a child play, as he jumped and moved from pillar to post showing excitement of happiness.
Earlier in his speech, Mr. Michael Amaefule said his essence of sponsoring the three weeks Super League as the matches are played on daily basis at the same venue starting from 2 pm each day is to afford talented players an appointment to excell in life reiterating that many local, national and foreign scouts have been detailed to watch the matches.
He passionately appealed to government at all levels and corporate organizations on the need for them to assist in uplifting the game of football ball by creating the enabling environment, encouraging football entrepreneurs and providing the needed training facilities and infrastructures.
The 16 teams registered for the maiden edition of the Super League are trading tackles under 4 groups as follows; Group A: Bayern Munich, West Brom, Chelsea and Totthenham, Group B: Man City, Man U, Real Madrid and Juventus, Group C: Wolves, At Madrid, Arsenal and Dortmund while Group D has West- Ham, Liverpool, Barcelona and Inter-Milan.