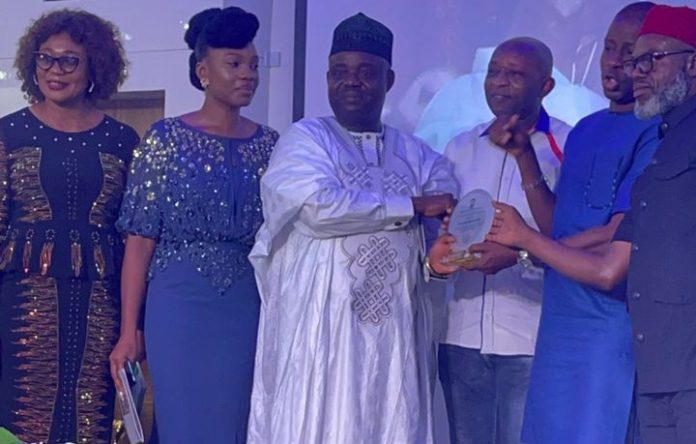 By Onyekachi Eze
In what appears to be a lifetime reward for job well done towards the development of one of the mega estates in Africa, the stakeholders and populated residents of Greenfield Community Development Area, in Isolo Local Council Development Area, LCDA, Lagos State, Nigeria, have honored an Imo State born Management cum Security expert, Prince Nixon Okwara with a prestigious Achievers award.
It was held last weekend, in far away Lagos, South West region of the country, where distinguished men and women under the LCDA were bestowed with the award, in recognition of their contributions to the success story that led to the growth and functionality of the Area.
Trumpeta Newspaper gathered that Prince Okwara was honored following his leadership dexterity that played out while he held sway as the first second Management Committee Chairman, and first elected Community Development Area chairman in 2010.
Going memory lane on the existence of the Area, it was learnt that the estate measuring about 164 hectres of wet land was bought in 2007, and developed through self help under the leadership of Prince Okwara as the then Chairman of the Management Team.
He explained that at the early stage, a South African Company was bidded to undertake the development of the area.
Unfortunately, they eventually fled after discovering the invert level, topography and other challenges associated with the proposed estate site.
Prince Nixon Okwara stated that they had no better option than few of them, majorly Igbos had to take it upon themselves to tackle the head on.
He said, "We gradually reclaimed the entire Area, supplied electricity to the entire Area, and finally interlocked same".
"This gave us the award of best estate in Lagos State under Fashola as the then Governor in 2014".
Prince Nixon Okwara continued, "After many years of this success story, the entire Area is now like paradise with an average 3 bedroom flats rent value of #1.5-2M. It is one of the most secured and functional estates in Africa today".
"So, the residents and stakeholders having taken cognizance of all the effort and input gathered to celebrate the men behind these success story, which include, the AIG John Amadi, CSP Ladi Tarpaya, DPO Ago, myself , Prince Nixon Okwara, post humous award to the former BOT Chairman, Chief Monday Imoh, and chief Nnanna Achiugo".
The Local Government Chairman of Isolo LCDA, Hon. Otunba Adebayo Olusoji officially presented the award to Okwara, in company of other Government representatives; Hon Jude Chukwuemeka Idimogu, member Lagos State House of Assembly, Vice Chairman, Amuwo Odofin LGA, Hon. Moureen Ashara .
Prince Nixon Okwara is an illustrious son of Ideato South Local Government Area, Imo State. He is not only a management expert, but also a Real estate guru.