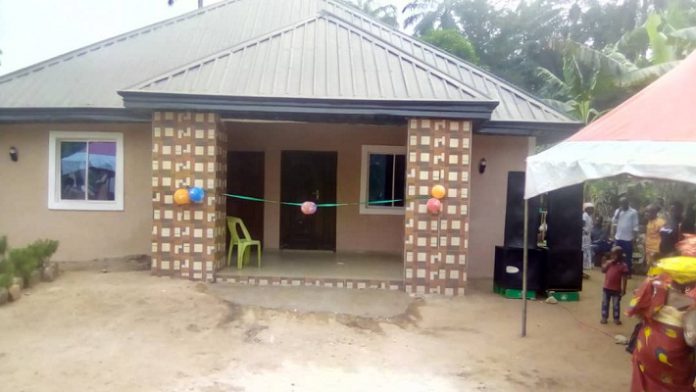 By Onyinyechi Amakaulo
A Philanthropist and an Engineer per excellence, Engr Akarachi Amadi on January 1, 2022 donated a bungalow to a widow in Ikembara Eziama, Ikeduru Local Government Area of Imo state to the delight of the inhabitants.
Speaking during the handover ceremony, the Traditional Ruler of Ikembara Eziama, HRH Eze U.O Iwuchukwu who was the officiating royal father of the day thanked God Almighty for the privilege to witness such a kind gesture from an inhabitant of Ikeduru.
Eze Iwuchukwu blessed Engr Akarachi for showing such a Godly interest in alleviating the plight of his subject as he prayed God to protect and prosper him more so he can bless more people in his federal constituency .
He however gave his royal blessings to the beneficiary of the new year gift from Engr Akarachi Amadi through his foundation, Akarachi Foundations.
The donor, Engr Akarachi Amadi thanked the family of the widow for giving him the opportunity to show love to his adopted mother whom he said had become part of him because she is an indigent one who has no body to take care of her including her immediate family.
The CEO of Akarachi Foundations meanwhile, noted that the gesture was not political motivated but simply a show of love to someone who needs it the most.
"I am here today to add to the things that I have been doing for mankind and to the glory of God".
"Our short life is like a mirror, it reflects back what we hold in front. If you hold good intentions and have a positive perspective on others, you will find that your own life will become the same.
"We're here today to celebrate this woman whom God has used to remember her family and to remember the good People of Ikembara Eziama in particular".
He further stated that he and his team will be doing more for the people of Ikembara Eziama and Mbaitoli/Ikeduru Federal Constituency in the nearest future.
The young and enterprising philanthropist also made a cash donation of N100,000 to the beneficiary to enable her to start up a small business.
Highpoint of the event was the presentation of keys to the building to the beneficiary and cutting of tape to officially declare the apartment open..