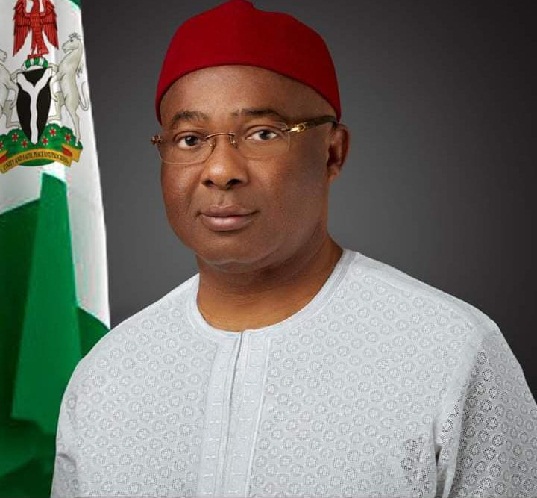 By Stevenie Michaels
Prince Ugochukwu Nwachukwu (Ugosly) has appealed to all Imo State residents, especially the electorates to re-elect Governor Hope Uzodinma in the forthcoming gubernatorial poll, saying the Governor has done so well and deserves to be re-elected.
Ugosly who affirmed his support towards the re- election bid of Senator Uzodimma while fielding question from journalists shortly after an event held at Godfather Owerri said the governor had performed so much in Imo State and based on his performance deserves to be voted for en-masse come 11th November 2023.
The Mbaike-born successful business mogul hinged his decision to support Uzodinma on the governor's giant stride achievements in infrastructural development of Imo State and other economical indices which have repositioned the state on the part of global development.
"His achievements in the critical sectors of the state's economy are endearing, and we are convinced that it needs to be sustained. The recently commissioning of dredging of the Oguta lake/Orashi River to the Atlantic Ocean and other projects too numerous to mention" began Ugosly.
He said ,"I wish to reinstate my unflinching support towards the re-election bid of his Excellence Senator Hope Uzodimma (Onwa) as the governor of Imo State come 11th November 2023
"My endorsement for Senator Hope Uzodimma is to afford him the opportunity to continue his good works" he added.
Also speaking at the event, the Deputy Governor, Prof Placid Njoku acknowledged the magnanimity of Ugosly and urge all the electorates in Owerri zone to come out in mass and vote Governor Hope Uzodimma back as the governor come November 11, 2023.
Speaking shortly, Hon. Hamilton Chinasa Opara JP, the sole administrator of Mbaitoli local government Area in his vote of thanks said the adoption is because the governor, His Excellency, Senator Hope Uzodimma merited it.
He said Gov Uzodinma has restored confidence  and peace in the political space of Imo state, urging all and sundry to work hard for his reelection .
Among dignitaries who graced the event includes:  Hon. Macdonald Ebere the state party chairman of Imo State APC, and Prince Charles Amadi', Hon . Innocent Ikpamezie, Prince Marcon  Mlemigbo, HRM Eze Akujuobi  Osuagwu, the Azekoche 11 of Awake Accent kingdom, HRM Eze Oliver Njoku, HRH Eze Nwogu, Hon, Engr Ikenna Anyasor, and a host of others.