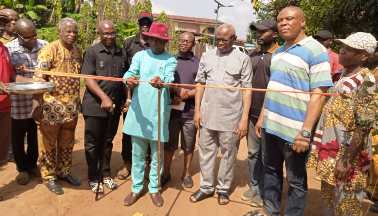 The Anambra Imo River Basin Development Authority staff Mr Akachukwu officially handed over the signed documents of the awarded road contract to Mr Uchechukwu to SS Herny ventures limited for immediate take off of the road construction.
The ceremony which took place over the weekend at the Eke ITU market square witnessed the convergence of people of goodwill alongside dignitaries from within who came to witness the event.
The facilitator of the road project Barr. Louis Alozie while speaking stated that road leads from Eke Itu Mkt square, through Umuna. He narrated that the poor road situation his people are facing necessitated this drive.
Continuing, he mentioned that the road which is about being worked on is not less than 5kilometres and it leads from Eke Itu Market square through Umunaga village and stops at Imo River, being their boundary with Isiala Ngwa.
Furthermore, he explained that when Rt.Hon Emeka Chinedu the Member Representing Ezinihitte/Ahiazu  Federal Constituency heard about this proposal ,he willingly keyed into it .Promising, to do all within his reach to ensure that the road is well constructed to standard  with good sewage drainages and culvets built to help curb the menace of erosion.
He concluded by informing the people that love is very essential and as such, everyone of them should learn to embrace it for through it, development is achieved. While advising that anyone who knows what he can do to ensure that positive light comes to their community shouldn't hesitate to do so regardless of party affiliation.
Responding to the above, Chief Kingsley Njoku the DG Rt.Hon Emeka Chinedu's Campaign Organization stated that Hon. Emeka is a man of his words and as such, has no doubt that he would do justice to all he has promised. He equally assured the people that he would do all within his capacity to ensure that adequate funds are allocated to help hasten up the project.
The IMC Chairman Ezinihitte LGA, Chief F.S Onyeberechi KSC, JP, who equally lent his voice was full of appreciation as he thanked God for a peaceful flag off.
Continuing, he asked contractors not to relent to carry them along in whatsoever as regards to the project about to be started as they, are fully willing to work together with them to achieve success.
He ended by requesting that they do a thorough and expertise work that would stand the taste of time as he concluded.
The Councilor Representing Itu Ward Hon.Uzochi Njoku was highly recognized as he endorsed the contractual document on behalf of Itu community.