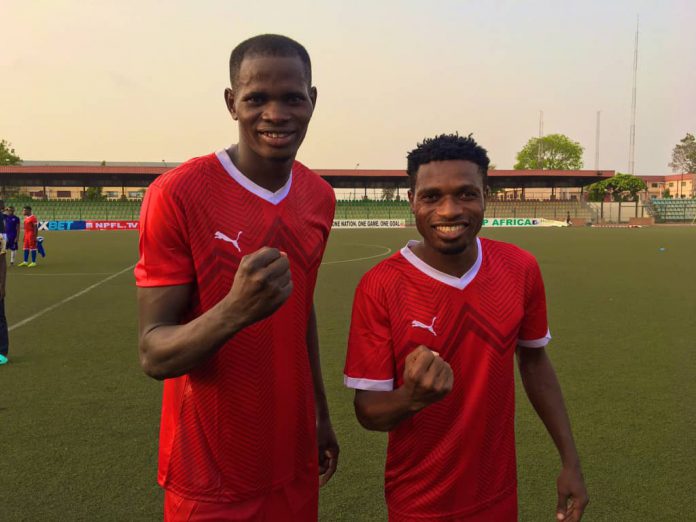 Even as the clubs first away victory of the season is still sinking in, the troubling issues bedeviling Heartland FC still lingers as the Sports Commissioner, Hon Dan Ogu and former Sporting Director, Ifeanyi Ekwueme exchange banters.
Former allies during the reconstitution of the present management team of the Owerri based NPFL side have been in exchange of words over a failed kit contract as former Super Eagles player, Ekwueme threatens court action.
Ekwueme who is the representative of Tico/Select Sports Companies, recently vowed to deploy "all available means" to squeeze out N21m owed him by Heartland FC Owerri.
Ekwueme, who was the club's Sporting Director, is unhappy that all efforts made to draw the Management's attention to the debt had been rebuffed.
"I signed three years contract with Heartland FC for the supply of football equipments and until date I have not failed to meet my part of the agreements. We even supplied more than what we are supposed to supply, still they're owing my company N21 million since 2019/2020 and 2020/2021 seasons".
"Due to such debt I have lost my contract jobs with my European counterparts. I helped them because I am from the state and was Sporting Director of the club. This was why I kept supplying equipments trusting that I will be paid".
He continued; "I supplied the jerseys and equipments they are currently using this season without being paid, not minding that they had not paid for the previous season. The Select balls I supplied them for this season is similar to the one being used in the Bundesliga, yet they have refused to pay me. Frankly, I regret all this because there is no iota of appreciation from them".
The former Poland based winger said he was more appalled at the nonchalant attitude of those at the helms of affairs, who should speedily deal with the matter.
"I have served the club series of letters through my lawyer and copied the Heartland FC General Manager , Ifeanyi Chukwudi, Commissioner For Youths and Sports Development ,Hon. Dan Ogu and Deputy Speaker of the Imo State House of Assembly, Hon. Amarachi Iwuanyanwu. Yet no response from anyone", he added.
Ekwueme, who is currently the CEO of Apex Krane FC, has resolved to deploy every possible legal means to get paid which he noted is N16m but got to N21m owing to interest and service charges like transportation.
"I have had enough and I am running out of patience. One good turn deserves another. I am going to use all necessary means to get my money. I am going to sue the club next week and copy League Management Company, NFF and FIFA. I just want to make it public first, so that nobody will blame me when I start my own", he said.
Meanwhile, the Imo State Sports, Youth & Social Development Commissioner, Hon Dan Ogu has dismissed as spurious claims by the club's former Sporting Director, Ifeanyi Ekwueme that the club is owing him over N21m.
Reacting to Ekwueme's threat, Ogu to an online news said the club is not owing the Ex international a dime, even as he added that it is Ekwueme that is actually owing the club after failing to supply kits for which he has been paid over N7m before the start of the season.
"Don't mind him…Ask Ekwueme which management is owing him…We ordered for jerseys worth over N7m and he is yet to supply the kits…"
Reports further revealed that the club management may in fact drag Ekwueme to court over the kits saga.