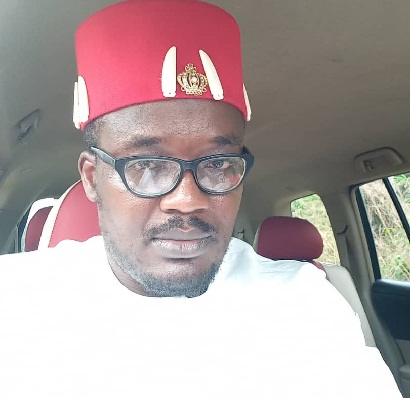 The President General of Ozara Ward, Oru West LGA Imo State, Deacon Samuel Okorokwh has refuted the alleged publication in many newspapers circulating in Imo State where it was fabricated by some face saving local politicians that Ozara stakeholders have asked Chief Barr Eze Okafor an illustrious son of Ozara and the Legal Adviser of Ozara Progressive Uninion to Leave Mr Obioma Okolie (Dangote) alone as a political propaganda and face saving mechanizing describing the authors of the ill informed statements as mischief makers and those looking for political feasibility by tarnishing the image of an Ozara son because he is speaking the truth and standing with his people.
He described Barr Okafor as a truthful and straightforward man who speaks the truth and damn the consequences, saying that the person that has shown capacity and exemplary leadership in Ozara is Chief Barr Okafor for his role so far in carrying the community along and representing the community well as a good ambassador of his people. He made it clear that Mr Obioma Okorie is not a leader in Ozara an dhas never shown capacity in any way other than pull him down game he is playing with the IMC Chairman of Oru West, Mr Willy Okoliogwo. He described one Mr Ernest Okwuoha as an accidental discharge councilor who is ready to sell his brother from Aboh to please his paymaster Willy. He added that Mr Ernest is part of the Ozara problem who has been the main cause of disrespect of the Office of P.G in Ozara.
He described the rider "Leave Obioma alone, Ozara Stakeholders warn Okeafor" as fake news and cheap propaganda, clearing that there is no Ozara son or daughter known as " OKEAFOR". No Ozara son or daughter is against Barr Okafor he has the full support of the community. We know our own Chief Barr Eze Okafor and we are solidly behind him in all sincere effort to liberate our people from those who hijack all government interventions in the community.
He described the IMC Chairman of Oru West LGA as a trouble maker and lack respect for the LGA Leaders and communities, he stated that sometime last year, the IMC chairman unilaterally removed him from office, and purported alleged to have replaced him with another person, but the timely intervention of the members of Ozara community saved him from the humiliation, as the people stood their ground and re-affirmed a vote of confidence on him since then Willy has been in cold war with him.
He stated that Mr Willy has been nominating people for appointments, selecting delegates on behalf of Ozara community without the input of the community leadership, Traditional Rulers and Party Stakeholders input. Saying that the Governor selected Willy as his loyal followers, but the IMC chairman has ended up fighting every leader in the LGA. Adding that if not Chief Barr Okafor, Ozara ward would not have participated at the Oru West Visit to the Governor as Willy singlehandedly selected 12 names he wanted to join in the visit, until Barr Okafor scattered his plan. " we are happy we actively participated courtesy of Chief Barr Okafor, Barr Okafor believes in Inclusive politics rather than divide and rule approach or hijacking"
He stated that the state government asked the LGA`S to nominate names for empowerment and Willy who hails from Nnempi in Oru West without recourse to him as P.G or leaders of the party of the traditional rulers solely nominated and singlehandedly selected and sent nominees for the empowerment from his community without anybodies input, until the Chief Barr Eze Okafor upon hearing the misnomer raised alarm.
It is false that Mr Obioma Okorie Tared roads and sunk borehole or developed ozara, Ozara people appreciates Dist. Sen. Osita Izunaso for the tarring of all the roads in Ozara and Ohakpu except those currently in bad shape not yet attended to and we are sure the Governor as our big brother will attend to them in due cause as time goes on. "I hate lies and falsehood as a Christian; we are still expecting Mr Obioma to show capacity to be recognized as a leader, let me make it clear that Mr Obioma Okorie(Dangote) did not tare any road in Ozara ward and has never empowered Ozara people in any way. If he says he empowered members of his family that may be truth for him and his family, but not Ozara community which I am the P.G"
He described Dcn Obioma Okorie as a member of AA who just joined APC, but Chief Victor Okafor (Chiarman Vicmore steel Ltd) and Chief Barr Eze Okafor among other people actively and strongly worked for the Governor Hope Uzodimma during the election,. "it was clear and understood that Oru agreed to vote Governor Hope Uzodimma for Governorship, Senator Osita Izunaso for Senate, while we will support Mrs Chika Ononuju( our wife for Imo State House of Assembly)
The P.G in replying the alleged publication in the newspapers in the name of Ozara Stakeholders said that Davidson Onwukeme, Mr Sunday Ekezie, Deacon Obioma Okorie and his wife Edna, Mr Christopher Obiefule, and Ngozi Onuba has no mandate of the community to speak on their community behalf
It was Barr Okafor that opened the eye of the community on what is happening. Without Barr Okafor nobody will know what is going on. He is fighting the just cause for his people. He is fighting for the common interest of our people. No man can bring him down; no man who wants to take above the community can bring him down, we are watching and following up. There is injustice in Ozara and those causing the injustice do not want peace and progress in Ozara. He added
When call was put across to Sir Barth Okafor from the ward, he described Obioma as a man who does politics with bitterness and now met his match in Chief Barr Okafor. He stated that Obioma Okorie being a younger person joined politics with bitterness, without ideology, and stated that their political war is now affecting the entire community. He advised that they should allow peace to reign and people should respect themselves and their seniors.
When call was put across to the Traditional Ruler of Ozara Community, HRM Eze Onyeka Ononuju, he was confronted with a statement credited to him in Newsbreak newspaper of Monday 21st June, 2021, he disowned the publication as false, saying that Obioma, Davidson and their co-travellers are looking for a way to put him into their political battle, saying that he has no idea about the said publication and that he has never passed vote of confidence on Obioma or anybody as he is not a politician, but a traditional ruler. He added that " Barr Okafor and Mr Obioma are my subjects and I don't know what their problem is…but I will look for a way to settle them as I have called them for a meeting over the matter" he added that he did not re-affirm confidence on any politician in Ozara neither did he say that Mr Obioma Okorie is the major source of development in Ozara community.
When contacted the councilor of Ozara Ward, Mr Ernest Okwuoha, alleged that what he knows is that Barr Eze Okafor is exposing the IMC Chairman and attacking him publicly which is not good that was why when the paper was brought to him he signed. He defended Obioma Okorie saying that maybe because Barr Okafor is attacking the IMC Chairman Obioma whom the IMC chairman is pushing to be leader of APC in Ozara will be advising Barr Okafor not to be exposing the IMC chairman that way. On a closer look at the document, it was observed that the councilor representing Mgbidi Ward 2 for reason yet unknown to newsmen refused to sign the document, but the councilor for Ozara ward signed. All effort to reach Mgbidi ward 2 councilor to know his reason for not signing the document proved abortive.
When call was put across to Chief Barr Okafor he described Chief Davidson Onwukeme as a civil servant who has not officially resigned from his teaching job in Imo State government to join party politic of defending evil of his brothers, maybe because, Mr Obioma is dashing him money and helping his life. He described his co-travelers like Sunday Ekezie, Pastor Chris Obiefule and Mrs Ngozi Onuba as hungry people who are ready at any time to sell their conscience because of money. Ozara people knows them too well and they speak for their stomach and not Ozara people. They are the few Ozara people who feel Ozara community is for sale to the highest bidder.
He stated further that "my people supported and voted for the Governor, our people of Ozara agreed we will vote for Governor Hope for Governorship, Senator Izunaso for Senate and our wife Mrs Chika Ononuju for House of Assembly and that we did. Willy cannot detect what will happen in Ozara and other Oru wards, including his ally Obioma Okorie, he described Obioma as a selfish and stomach Infrastructure politician who has been coveting what belong to the general ozara people and destroying laid down procedure of electing or appointing councilors to favour only members of his immediate family, "he took away councilor from Umuokporoma village and gave to his immediate senior brother Mr Sunday Ekezie(one of the so called Stakeholders of Ozara)". Our youths are ready for the empowerment, our legitimate list has been sent to government. " it will surprise you no member of my kindred is in the legitimate list drawn by my community and I did not nominate any person in the list, my interest in let the right thing be done, honour should be given to whom honour is due…check it, am from Aboh, did you see my surname there?"Saying further that both appointees and non appointees of government are in cold war with Willy, while some people are afraid of Willy as he usually alleges closeness to our big brother and Governor.
Adding further, Barr Okafor described the garbage published by Willie`s councilors in some local tabloids as a thrash and unfounded as those are words of drowning men who has no focus, but paid paltry to heighten the ego ridden shoulder of their principal Willy Okoliogwo, who indeed has no respect or dignity towards the leaders of the LGA. "When I called my councilor Mr Ernest Okwuoha about the said publication which he signed among others he denied knowledge of same, as he thought they brought voucher for their payment.
He added that instead of Willy to respect the party leaders, he went ahead to hire members of AA to spite them who fought for the party. He named thugs hired by one Mr Obioma Okorie (AKA Dangote from Ozara ) as those who destroyed his highlander jeep, and tore the shirt of Chief Vicmore and destroyed all the votes cast for Governor Hope Uzodimma at Comprehensive Secondary School Ozara booth 4 and 5, but Willy instead of respect the community and leaders who worked for the governors, he is playing double standard and one man show with Obioma Okorie whom he described destroyed Ozara community with his bulldozer style politics with AA Government of Rochas Okorocha.
Is clear that Willy instead of respecting him as a leader of the party, because Mr Obioma a cement distributor is dashing him bags of cement and money is using Mr Obioma Okorie against him and other party leaders in Ozara. But added that the leaders are out to fight for their right and for the life of Ozara community.
" I am a full member of APC from inception, I have never been a member of APGA, I did not play party politics in the last election, I supported Dist Sen. Hope Uzodimma, Dist. Sen. Osita Izunaso, and other people like Chief Victor Okafor, Chief Charlse Nwokeji (Agujiegbe), Chief Ikechukwu Onwuka (Iketex), and many outstanding Oru sons obeyed the Oru decision to support Governor Hope, so all those writing crab articles should take note" while adding that the reason he don't go to local government since Willy inception is because he sees Willy as an uncivilized Oru son who plays infantile politics of no clear cut ideology and sanity.
It was unraveled from our investigation that of truth Dist Sen Hope Uzodimma won in Aboh pooling booth 006, Aboh Primary School Ozara, while Dist Sen Osita Izunaso Won Senate in the polling unity, while Mrs Chika Ononuju won House in the pooling unit. That generally, Chief Barr Eze Okafor and Chief Victor Okafor (Chairman Vicmore Steal Limited) where the two prominent sons of Ozara Ward who actually delivered Governor Hope Uzodimma in Ozara Ward. They both where actually attacked by thugs hired by Mr Obioma Okolie during the election as majority of the people reached by our correspondent in the community confirmed this and the pictures are available.
When the correspondent called many other Leaders in Ozara, it was confirmed that most leaders and community leadership of Ozara are complaining bitterly about the attitude and actions of the IMC chairman and Mr Obioma Okorie.They alleged that the IMC chairman is turning off the mind of the leaders/people from the government, thereby de-marketing the laudable programs/projects of the state government.