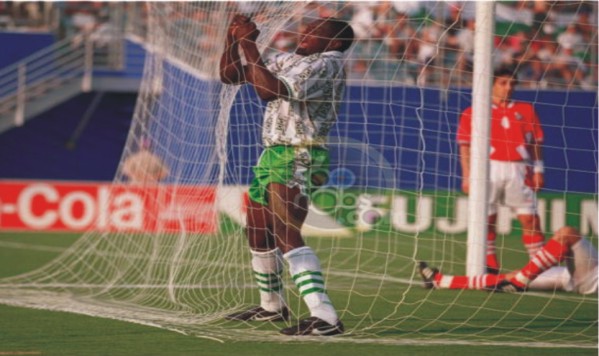 After Yekini's departure from Olympiacos of Greece, his career never really got back on track, not even upon his return to Setubal.
But in all his travails, 'Yeking' remained undaunted and took his career to FC Zurich (1997-1998), making 28 appearances and scoring 14 goals.
From there he moved to club Athletique Bizertin and later to Al-Shabab (Saudi Arabia) before joining Africa Sports in 1999. He played for them till 2002.
In 2003, Yekini aged 39, returned to the Nigerian League, this time with Julius Berger whose club base then was in Ogun State.
His return to the Nigerian Soccer scene was hailed by many and fan trooped out en mass to watch him play.
In 2005, 41-year old Yekini yet again made another spirited effort at staging a come back alongside former International team mate Mobi Oparaku via Gateway FC of Abeokuta before finally quitting the game that brought him fame.
In addition to some of his aforementioned achievements with the national team, Yekini was part of the Nigerian team that participated in the 1994 FIFA World Cup in United States and scored Nigeria's first ever goal in a world cup finals. It was a 3-0 win against Bulgaria. He also played for the country at the 1998 World Cup in France.
Rashidi also helped Nigeria to win the 1994 African Nations Cup in Tunisia. He was top scorer of the tournament and equally featured for Nigeria at the Soul 1988 Olympics men's soccer event.
His national team career spanned 14 years starting from 1984 when he made his debut for the country and ending in 1998.
The goal machine gave up his ghost on May 4, 2012 aged 49 amid reports that he died in a herbal home in his home town Irra, Oyun Loccal Government of Kwara State after a prolonged illness.
He is survived by a daughter who is schooling in Dublin.