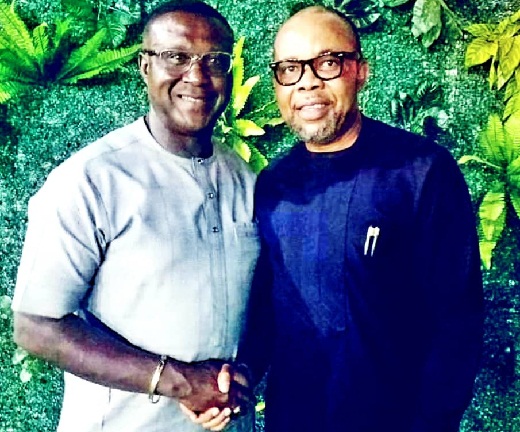 By Onyekachi Eze
An annual ritual that always takes place in Owerri, Imo State every Valentine period, will again hold this year, courtesy of Bashliks Sports House and Events Centre.
In line with the policy to ensure couples strengthen their love and relationship, this year's edition will still hold.
This was part of the Briefing by the man behind the show, Chief Goodfaith Chibuzo Etuemena, otherwise known as Bash of the Bashliks Sports and Events Centre fame.
Apparently concerned with cases of failed marriages among families, in reference to Imo State, goodnews is said to be underway for couples facing such ordeal.
This was coming when young marriages are believed to be facing infidelity cases, comes the package from Bashlyks Sports House and Events Center.
An Imo State born sports guru, and UK brought up entrepreneur, Mr. Chibuzor Etuemena has disclosed his willingness in bringing couples together again with his show tagged "Couples' Night Out".
Addressing Newsmen at Bashlyks Sports House and Events Center, by Heroes Apartments, Concorde Avenue, Owerri over the weekend, 'Bash' as fondly called said the 2023 Valentine's Day coming up tomorrow, February 14 will usher in good tidings in respective homes.
He emphasized that most families, Couples and their children no longer live in harmony and peace, due to one difference or another.
To this end, he revealed that the Couples' night out which had its debut in Manchester, United Kingdom few years ago has come to stay in Imo State, and Nigeria for the sole aim of sparking off that conjugal bliss which formed the basis of every marriage.
As a means of encouragement, cash prizes, gifts, and ticket to tourist's sites in the country would be won by couples who triumph in their love contests.
He maintained that it is not  just  targeted at sustaining the momentum of Valentine but to tighten the bond in relationships.
He testified  that the earlier editions has helped in rebuilding broken marriages, with spouses living in absolute tranquility.
"It helps in putting life in a marriage, its intention is to rebuild marriages, it will help also to curb immorality associated with Valentine's celebration, this is a different event put together, there would be contest and lots of fun for the couples to remind them of how they started.
"At the end of the whole night affair, prizes would be given to the best couples, there would also be ticket to visit tourists sites in the country, many marriages have been rekindled in this event in the past.
"Couples' night is so special because of the impacts and family values it portend. We have been able to rebuild Marriages. Our wifes need to be encouraged.
"We are not in partnership with anybody. For now, we have no sponsors, my own very interest is anything that would make people happy. The impact would attract partnerships on its own.
"Couples night out is not only for married people per say. People in courtship can equally come and learn the nitty gritty of Marriage from the teachings and those already in marriage".
The event, according to the organisers is said to be a ticket event, slated to hold on Friday, February 17, 2023 at the aforementioned venue. Red carpet time is by 5:30pm.
Mrs Lilian Chukwura, a decorator and event planner decried that most Marriages fade away as a result of partners not carrying each other along as it should be. She added that every spouse must come with his/her partner.
Mrs. Charity Moses, in her own submission described it as  the best thing that would happen to Ndi Imo. "There is no perfect home, but certain activities would help in shaping families. It's God that instructed Bash to start up the event. There is need for families to be united. It's not easy to maintain a man or a woman. Finding out what each of them likes or dislikes is a kicker, and that is why the Couples' night out has come to stay".