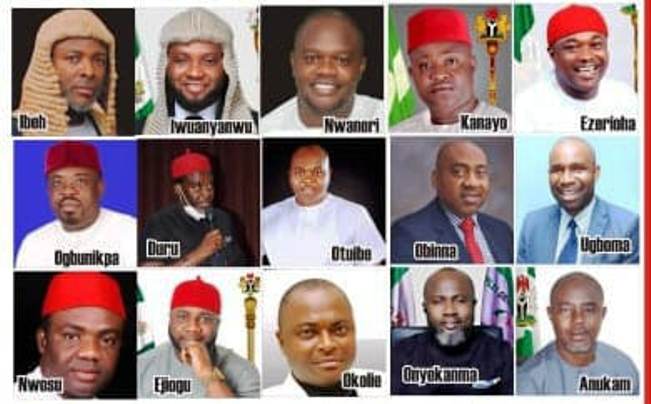 . Onyemaechi, Otuibe, Ejiogu, Others Face Zoning Formula Hurdle
.Ibeh Tries To Make History In Obowo, As Others Attempt To Break Jinx
As the election to produce next crop of Imo State House of Assembly members holds on Saturday March 11, 2023, the cynosure of eyes will focus more on those gambling for a return to the State parliament.
More pronounced in this comeback bid is the member for Obowo State Constituency and former Speaker Rt Hon Kennedy Ibeh. Ibeh is on a record third tenure move.
After victories in 2015 and 2019, the light skinned lawyer cum politician has a date with history as he seeks the votes of his constituents for a third chance.
The two successful attempts may have been an easy ride for Ibeh but this third attempt from all indications will be an acid test for him. Obowo constituents are said to be reviewing the third term plot by re-considering if he is the only one entitled to be in the State legislature.
Trumpeta recalls that no lawmaker from the State constituency has been to Imo Assembly more than two times. Ibeh's predecessor, Celestine Ngobiwu managed two terms.
Ibeh will face an uphill task due to several factors. Apart from the Labour party new force, PDP had a good run in the National Assembly election where the Reps candidate Jonas Okeke won against APC's Chike Okafor. Okafor and Ibeh are of the same APC. Even at the APC angle, Ibeh is said to be suffering challenges arising from cold war with majority of the leaders as well as loss of favour in the hands of the state governor who adopted indifference attitude to his removal as Speaker by his colleagues late last year.
Following Ibeh is the Deputy Speaker, Amara Iwuanyanwu of Nwangele. One of Uzodinma "boys" in the State Assembly,  Iwuanyanwu proved a stunt in 2019 when he used APGA with little influence to win the seat. Now, he is APC, and has done well for his constituents as his  empowerment programs speak volume in the entire Nwangele, Iwuanyanwu has a chance to return except the re-run of House of Reps where his Nwangele kinsman, OZB of PDP is involved.
The sympathy for OZB may affect his electoral fortune. As APC candidate as one in the good books of the governor, eager to have a House of Assembly loyal to him, Uzodinma will give support for Iwuanyanwu's re-election.
Another incumbent that has good chances of making a return is Chigozie Nwaneri. As APC candidate for Uzodinma's State constituency, one lawmaker he would give a smooth sail back to the House is Nwaneri. Despite that no Oru East lawmaker has had a second chance to make a comeback.
Similarly,  Nwaneri's neigbour in Oru West, Dominic  Ezerioha may benefit from Uzodinma's Oru grace. If the victory of Senator Osita Izunaso in West LGA is to be reckoned, Ezerioha only needs to work hard to actualize his second term dream. Though, he is said to be one of those on the card of Uzodinma for a second term, but his relationship with constituents remains suspicious trigerring fear votes to teach him a lesson.
Another lawmaker that may equal the records of Ezeadi.O.Ezeadi of blessed memory who represented Okigwe State constituency, a record two times is Ogbunikpa Samuel Chidi though very popular in his area as he is fondly called Chidon, he may also benefit from the victory of APC to cruise back to the State Assembly like Ezeadi. Late Ezeadi was elected 2003 came back in 2007.
One of the contenders for Ideato-South Johnson Duru, otherwise known as Pa Jay will also go through tough times to return. In 2019, it was an easy ride because of the Okorocha factor but 2023 will be a different ball game for him. Considering that much was not heard of him and the fact he shifted camp from the Okorocha political family to Uzodinma, loyalists of the former governor in the locality may use protest votes to push him out from a second term.
Ironically, the three Mbaise State lawmakers who used PDP platform to enter the Imo State House of Assembly are making a comeback bid.
However, while two dumped the PDP that brought them to pitch tent with APC, only one remained the only person that may be within spitting distance to victory is the Minority leader who is of the PDP, Barr Anyadike Nwosu of Ezinihitte while the two Aboh Mbaise's Obinna Eddy Aboh Mbaise  and Sam Otuibe of Ahiazu left to APC, Anyadike remained. The victory of PDP in Ezinihitte and considering that Mbaise land is power base of the PDP gives him an edge and advantage against the two other Mbaise APC flagbearers.
Eddy Obinna has an uphill task to overcome in the race for the Aboh Mbaise House of Assembly contest. He will battle against the PDP playmaker from his LGA, Emeka Ihedioha. Ihedioha may prove a point to Obinna that he was instrumental to his victory in 2019.
Also in this quagmire is Otuibe popularly known as Mola. It was learnt that having knowing the zoning formula in Ahiazu will kick against his 2nd term fortune, he switched to APC from PDP. But the zoning formula will hold him in the jugular as most of the leaders who were instrumental to his victory in 2019 have set their backs at him for leaving the PDP and trying to truncate the zoning arrangement.
Similar to some LGAs in Imo, Ahiazu where Mollar is intending to break the age long tradition practice of  one term policy shared between Ahiara and Ekwereazu clans that make up Ahiazu State constituency. He has a tough battle ahead even as APC poor showing in the last election is not heartwarming to his ambition. No Ahiazu State Lawmaker has gone on two occasions.
In Oguta, Frank Ugboma will rely on the strong PDP structure in his State Constituency to speak the voice of the people. He has the APC candidate he defeated last time to win for a record second time.
From Mbaise to the three Owerri State constituencies, two lawmakers are also facing the rigid zoning formula. Worse hit is Philip Ejiogu who may be victimized due to the rotatry formula. Like the rigid Ahiazu where no lawmaker has repeated legislative duties, Ejiogu will thinker a way to overcome this hurdle. Irrespective of party differences, the three blocs in Owerri North State Constituency have always had one tenure. In 2011, Hon Ray Emeana, from Uratta bloc, the serving PDP State Secretary attempted to break the jinx, Dan Ikpeazu of OAU bloc went before it was the turn of Lloyd Chukwuemeka who also had a tenure.
Ejiogu after winning in 2019 wants another chance, Trumpeta learnt is raising opposition against his ambition. A recent meeting of Owerri North people in Agballa, according to what Trumpeta learnt is strongly advocating for the rotational policy with an insistence it is the turn of Uratta bloc.
The other PDP members who want a  return are the former Deputy Speaker, Okey Onyekamma of Mbaitoli, Paschal Okolie and Solomon Anukam of Orlu and Owerri Municipal respectively. The trio will try to make a statement with this election.
Majority leader of the House, Dele Kanayo Onyemaechi will also contest against zoning formula. Despite his reachout and efforts to make an impact, the presence of PDP Senatorial Candidate, Uche Onyeagocha and some forces traceable to the zoning formula will give him tough time. The only remedy that may come to his rescue is the good relationship with the State Governor. Onyemaechi is believed to be one of the Uzodinma "Boys" in the Imo Assembly.