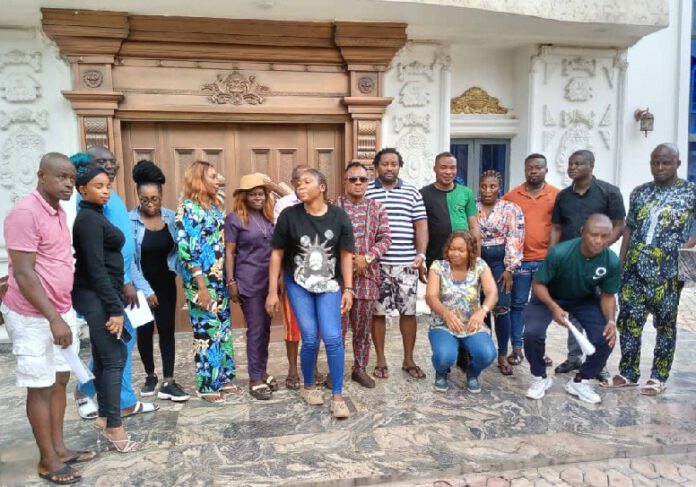 …As Foundation Delves Into Sports Development
The Ikukuoma Sports Development Foundation officially unveiled the management team of its football offshoot, Ikukuoma FC on Sunday 11th of March 2023 at the country home of it's founder/President and General Manager, High Chief Dr. Summers V.C Nwokie.
The formation of the club was stimulated by the overwhelming successes recorded through the annual Ikukuoma Mbaise Unity Cup Competition, organized by the foundation and solely funded by it's founder, Dr. Nwokie. It is aimed at creating a channel by which talented products of the competitions, as well as other gifted footballers can be groomed to make their livelihoods through the round leather game.
Addressing the newly installed executives, the Founder of Ikukuoma Sports Development Foundation charged them to live up to the desired expectations as he has reposed so much confidence in them to make the club a force to reckon with. He urged them to work in unity of purpose so as to achieve the goal of grooming players of international repute and making the club a rallying point for football excellence.
Their letters of employment and documents detailing their jobs description were thereafter handed over to them by the Director General of the foundation, Comrade Julius Nnaji, while Dr. Nwokie formally welcomed them on board with a hand shake.
In his own address, Mr. Nnaji harped on the need for diligent commitment to duties, just as he expressed confidence in the constituted crew. He thanked Dr. Nwokie for going a step further in establishing a club, as it greatly aligns with the Foundation's motto, "Nurturing Destinies To Greatness" stressing that this gesture has indeed highlighted the import of the foundation.
He further urged the new Media Assistant to work in synergy with the Foundation's media team to achieve the required media reach and information management.
While the club secretary will work with the Foundation's executive Assistance so as to get the best of results.
The medical unit of the foundation will also head the Medical Crew of the Football Club as the masseur is expected to work in tandem with them to oversee the medical management of the players.
In acknowledgment and acceptance of their new portfolios, the newly inductees individually spoke and expressed their gratitude for the jobs given to them while assuring the foundation and it's founder of their unalloyed commitment in their respective endeavours.
Several members of the press from the Sports Writers Association of Nigeria, radio stations and the print media were there to witness the occasion.
Ikukuoma Football Club is duly certified and registered with the
Nigerian Nationwide League as well as the Imo State Football Association. The team will be participating in the 2023 Nigerian National League 2
The Team
Founder/President:
Dr. Summers VC Nwokie
Director General of the Foundation,
Comr Nnaji Julius K
Consultant 1: Mr. Vincent Isaac of Shuttle Sports International
Consultant 2/ Chief Scout: Mr.Mbika Isaac also of Shuttle Sports International
Team Manager: Mr. Chukwuma Valentine Dike

Media Assistant: Mr. Cosmas Chukwuemeka
Chief Coach: Mr. Echendu John Kingsley
Assistant Coach: Mr. Nwachukwu Chinedu
Curator: Mr. Boniface Odom
Masseur: Mr. Chinedu Nzem
Camp Commandant: Mr. Obasi Vitalis