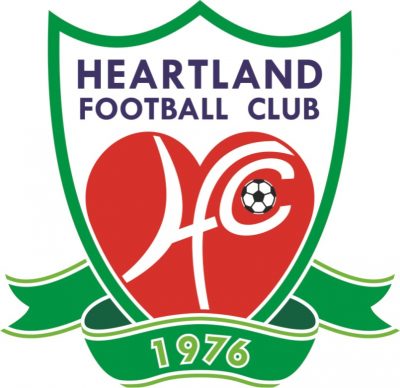 ..Promotes About 12 From Youth Team 
Two days after securing their first trophy of the season (the Imo FA Cup), Heartland FC on Thursday unveiled not less than 14 players including on one from their youth rank with the ambition of making a quick return back to the NPFL.
The players who were presented to the club fans and members of the   Sports Writers Association of Nigeria SWAN, Imo State Chapter, had at least one players from Enyimba FC, Abia Warriors, Sunshine Stars of Akure, Dakkada FC of Uyo, Akwa United of Uyo, Nnewi United now Edel FC and First Bank FC of Lagos among others.
The team based on the outstanding performance of players from the clubs youth carder promoted about 12 of them with one already registered in the league
Speaking on the occasion which was held at the main bowl of the Dan Anyuam stadium, Owerri, the Imo State Commissioner for Sports, Youth & Social Development, Hon Emeka Okoronkwo reiterated Governor Hope Uzodinma's unyielding commitment to bringing Heartland FC back to the top flight, charging the management and players to go the extra mile in reciprocating the Governor's  huge investment in football and other sports, by harnessing their youthful skills and experience.
Earlier, the General Manager of Heartland FC, Mr Promise Nwachukwu expressed gratitude to Governor Hope Uzodinma for Hon. Emeka Okoronkwo's appointment which he noted has revolutionized sports administration in Imo State.
He pledged the resolve of the Management Team and Players to justify Government's huge investment and confidence in their capacity and capability to change the soccer narrative of Heartland FC.
The Imo State Director of Sports Sir. Ferdinand Emeana and other sports
and football enthusiasts in particular graced the unveiling ceremony.
The Players:
1. Jeremiah Ndukwe (MD) from Solo FC (Jersey No. 35)
2. Tony Okemiri (MD) from Abia Warriors (Jersey No. 12)
3. Tunde Franklin (Attacker) from Sunshine Stars (Jersey No. 33)
4. Onyekachi Okafor (Attacker) from Oman (Jersey No. 19)
5. Chukwujekeu Onuoha (CB) from Nnewi United (Jersey No. 6)
6. Chukwuma Nwankwo (MD) from First Bank FC of Lagos (Jersey No. 29).
7. Fabian Omaka (Attacker) from Enyimba FC (Jersey No. 17).
8. Udeozo Ikechukwu (LB) from Nnewi United (Jersey No. 23).
9. Bright John Chimezie (Goalkeeper) Dakkada FC (Jersey No. 1)
10. Afolanya Peters (CB) from Dino Sports Club (Jersey No. 25)
11. Gideon Julius (MD) from Akwa United FC (Jersey No. 24).
12. Arum Chukwuebuka (Attacker) from Amanda FC of Orlu (—)
13. Chibuzo Ekeocha (Attacker) from Heartland Youth Team (Jersey No. 40).
14. Wohuru Victor (MD) from Go Round FC (Jersey No. 11)
15. Chisom Chiaha (Keeper) from Rangers Int'l (Jersey No. 31)
16. Edwin Nwakama (Keeper) from Calabar Rovers (Jersey …..)