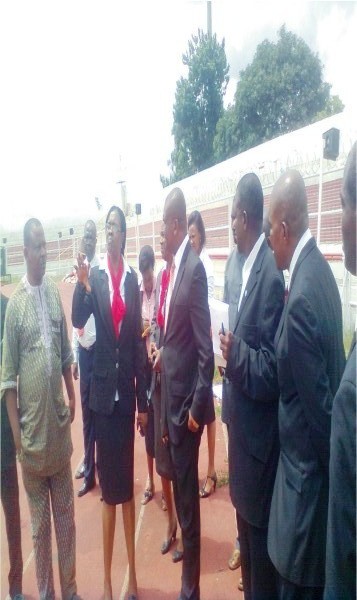 Monday the 18th of June 2012 opened a new chapter to the lives of Imo athletes and the sporting facilities in Dan Anyiam stadium as they prepare for this years National sports festival events billed for Lagos some time in November.
This new life was made know to Imo Trumpeta by the new Permanent Secretary to the Ministry of Youths and Sports, Commrade Obinna Ufomadu on his familiarization toure to the saporting facilities in Dan Anyiam and the heads of the Imo Sports council.
Speaking during the toure, Ufomadu tagged his transfer to ministry as a home coming, having worked as a member of the House Committee on Sports for a good number of years insisting that the experience he has gathered from appriopriation bill and budget planning committee will be used to give sports the needed boost and vigour required to excel.
He also added that as a career civil servant and with the level of experience he has gotten in the job, his office will continue to pass on to the Honourable Commissioner for Youths and Sports, Comm Keneth Emelu the need to invest properly on our youths and sports to help actualize the dream of His Excellency, Chief Rochas Anayo Okorocha, "rescuing the youths of Imo and also making Imo a better place".
Speaking earlier on, the Acting Director of Sports, Mrs Chizotam Aretola had thanked God for given to the sports council an experienced and seasoned civil servant like Commrade Obinna.
She also took time to outline the numerous challenges facing the council and solicited for the Permanent Secretary's help in pursuing the solutions for them.
In his response to the council challenges, Ufomadu, promised to partner with the Director and the Hon Commissioner in tackling most of the challenges.
He proposed the use of direct labour in rehabilitate some of the damaged sporting facilities instead of awarding contracts that may take longer time to finish and look very expensive.
Still on the council, Ufommadu also promised to look into the autonomy of the council to hire and fire staffs as well as improve their welfare package especially their leave allowances.
On the national sports festival, Obinna who also is a member of the Imo State Tennis Club, promised the Imo athletes of a better preparation and that the fire brigade attitude approaches to sporting events will be a thing of the past.
He went further to assure the athletes that every arrangement to enable them enter into camping two months before the event proper will be put into top gear.
Meanwhile, the secretary to the council Mrs Ngozi called for a continued sustenance of this type of gathering to strengthen the relationship between the council and the ministry. After which a minute silence was also held for the departing spirit of the state's cycling head coach Mr Tigana who died on Sunday.