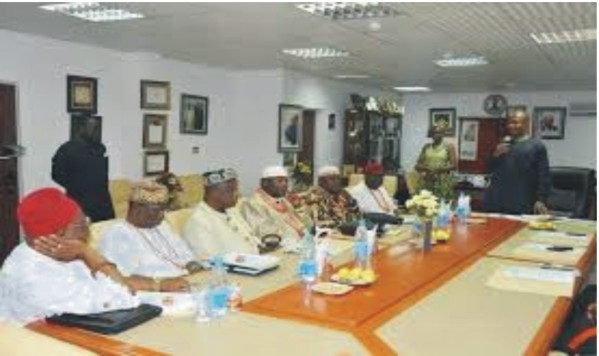 Tunji Adedeji
Ideato South Council of Traditional Rulers have commended Chief Mrs. Josephine Nnoham the All Progressive Congress, APC woman leader cum SA to governor on Women Mobilization for her contribution in the success of Prosperity Government led by Senator Hope Uzodinma  .
Speaking for the delegation on Friday at the Youth Centre , Concord arena Owerri during a solidarity visit to  Noham ,the Chairman of Ideato Council of Traditional Rulers, HRH, Eze Peter Ewuzie expressed gratitude to woman leader whom he described as hardworking, trustworthy, for her immense contribution to the feats so far achieved by Gov Uzodinma's Government.
Eze Ewuzie pledged their loyalty and unflinching support to Governor Uzodinma. He also praised the governors aide for her administrative prowess and non destructive and non divisive spirit shown in her relationship with all, the character.
The Ideato North Traditional Rulers however extolled Governor Uzodinma, whom he described as their in-law for his effort in commating covid-19 pandemic and massive infrastructural development especially roads Owerri and the rural areas praying their completion in good time especially as August break has begun to set in.
Also speaking, Chidubem Okorowuikemba was full of praises for Nnoham for being in tune with the people I grassroot. He accused Mrs Nkechi Ugwu, Commissioner for Gender and Vulnerable, from Ideato South LGA of not being on ground and attaching importance to the role of traditional rulers in the area.
Eze Okorowuikemba who alleged that the Gender commissioner  has refused to carry the people and council of traditional rulers in the area along with the developmental program of the State as well as get their input.
The monarch who enjoined her to see those at the grassroot as great influencers and mobilisers said by the virtue of her position ,she should be seen as the governors eyes in Ideato south but its unfortunate that reverse is the case.
His words," the traditional institution in Ideato South does not even know that we have a commissioner from our LGA. Chief Josephine Nnoham is the only government appointee in Ideato South as far as we are concern .We at the grassroot are not aware of any other appointee and haven't felt the impact of the said commission."
In her welcome address, Chief Mrs  Nnoham fondly called  madam Social averred that the Governor attached great importance to the role of traditional rulers in the society as great influencers and mobilisers which necessitated her invite ..
Nnoham who emphasized that she is contended with her appointment as SA to Uzodinma said her invitation was also to intimate them about the development agenda of the Prosperity government and seek their support on all programmes initiated.
She said,"I enjoin you to give our governor Onwa Oyoko your unflinching support. The Governor has great respect for the traditional rulers and will not disappoint Imolites.